Live Healthier with a Fitness Trampoline
Getting into shape does not have to be all about getting yourself to the gym and spending endless hours working out for only a little bit of gain. It is a process that most people have to drag themselves into in the hopes that they will live healthier. Who wants to pedal on a stationary bike, jog nowhere, and do aerobics? Wouldn't you rather have fun and combine all of your exercises into one fun ten minute workout? It can be done with a fitness trampoline (also known as a rebounder trampoline).
What Are Fitness Trampolines?
In most cases, fitness trampolines are small trampolines (similar to mini trampolines for kids) that are designed for single person use. You can use them in your home or out in your yard. You can bounce to the beat of music or you can watch television while getting your daily dose of exercise. A small fitness trampoline can be set up anywhere and you can jump your way to a healthier body. These trampolines are usually lightweight. They have a little extra bounce in them and there are safety features in place to help you stay stable while you bounce.
How to Use a Fitness Trampoline
Many people wonder about all the hype and ask is jumping on a trampoline good exercise or not? The short answer is, "Yes" and it is very easy to do. All you have to do to enjoy the benefits of trampoline fitness is step on and jump. It may take a little getting used to, but your heart will be healthier, your body will feel better, muscles will become toner, and even your stress level could be lowered because of how much fun you will have jumping on your trampoline.
You can have healthier bones, better balance, and a variety of other health benefits. All it takes is you committing 15-20 minutes for 3 days a week. If you are new to bouncing you can even break it up into five minute jump sessions a couple times a day. However, you should avoid jumping right after you eat or drink, so that you will not have to worry about cramps.
Top 4 Fitness Trampolines
Even some gyms have fitness classes that include trampolines in them. If it is good enough to make an aerobics class for, shouldn't you consider giving it a try as well? If nothing else, perhaps you could attend one of these classes first to see if you want to give a fitness trampoline a try. You can also read through our trampoline exercises to get an idea of possible workout routines.
If you have already tried it out, or you just want to jump into jumping for your health and purchase your first fitness trampoline, there are a lot of trampolines available. All you have to do is decide which trampoline for exercise you want. Perhaps the first thing you should do though is take a look at fitness trampoline reviews. Here are a few for you to consider.


Stamina InTone Oval Jogger Fitness Trampoline
The great thing about this fitness trampoline is the fact that it has a unique oval shape that provides more stability and more variation in what you can do on it. Both of these features are even further increased by the fact that it is one of the few fitness trampolines with handles. It comes with a DVD to show you how to get the most out of your workout and it can track how much you jump per minute. It is made of quality steel and meant to last as long as you want to use it. Read More Here⇒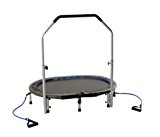 AirZone Mini Band Fitness Trampoline
Some people consider this to be the best fitness trampoline available because it is simple in design and high in quality. It uses elastic bands instead of metal springs, but it still has the padded skirt to ensure you do not have any metal exposed in your jump area. The mat is made using the woven polypropylene, which is the same material that is used on much larger trampolines. Read More On The AirZone Here⇒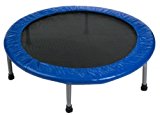 Pure Fun 40" Mini Fitness Trampoline with Hand Rail
This fitness trampoline with bar requires no tools for you to use when you put it together. The full handrail is adjustable between 39" and 42" high. It has a weight capacity of 250 pounds. With the Pure Fun trampoline, you can jump and play your way to a healthier heart and have the support of a handrail to keep you stable. It has five legs, which have a rubber tip to keep it from sliding around. The springs are covered by a protective mat. You can use it for exercise and kids over 8 can use it for active fun. Read More Here⇒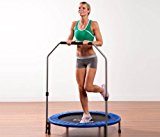 Urban Rebounder Fitness Trampoline w/ Workout DVD & Stabilizing Bar
If space in your home is an issue, you will be happy to hear that this fitness trampoline is able to fold up for easy storage. You can simply slide it behind the couch or under the bed when you are not actively jumping on it. It has a 300 pound capacity. The DVD shows you a variety of workouts that you can do while getting into better shape. Read More About Urban Rebounder⇒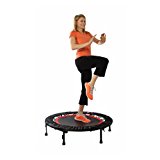 If you are ready to jump your way to health, these fitness trampolines will be a great choice for you. They are popular and guaranteed fun. Are you ready to jump on your very own fitness trampoline?
Check out more mini exercise trampolines!
FAQ About Fitness Trampolines
If you don't see your question, or an answer to it, listed below in our FAQ section, let us know and we'll do our best to help you!
What is a fitness trampoline?
A fitness trampoline is a small, single person trampoline that is used for light, low-impact workouts. Most fitness trampolines are able to be used both indoors and outside, giving you the option to exercise wherever you like.
Are there any fitness trampoline exercises and workouts?
When it comes to wanting to exercise with a workout routine on a fitness trampoline, there are a ton of different things you can do. Most prefer to simply bounce up and down, but you can also jog in place, jump higher up, and incorporate some stretching if your fitness trampoline has a handlebar!
Which is the best fitness trampoline?
If you scroll up a little bit, you'll arrive at our review section, where we have fully reviewed our top 4 fitness trampoline reviews. Although, the 220 Fitness Trampoline by JumpSport comes highly recommended.