Mini Trampolines For Kids: See Our Top Indoor Trampolines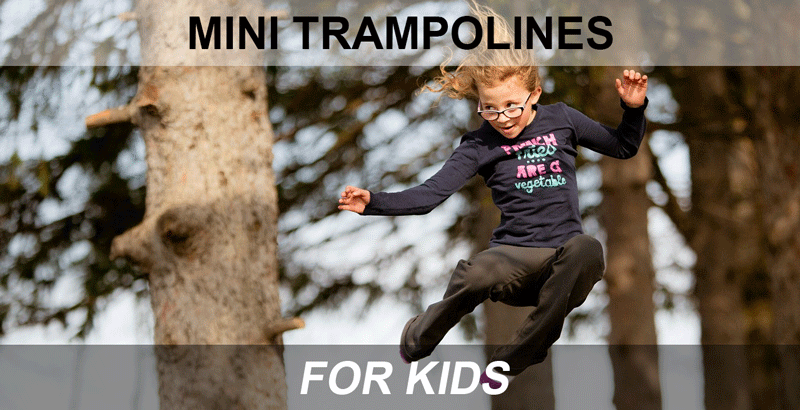 A mini trampoline for kids is a great way to get them understanding exercise and fitness. They can be used indoors, so that if it is rainy, your child can still have a fun day. A kids trampoline jumping surface is usually made to be waterproof and durable to withstand lots of jumping up and down. Some also come with an easy-to-grip handle bar so children can hold on to keep their balance. For extra safety and with children in mind, there is padding around the springs to prevent little ones from stepping through the bungee cord and to cushion the frame.
As with most toys for children, some toddler trampolines fold easy for storage. Toy companies understand that most parents with little children have many toys. Parents like being able to fold them up because it helps free up space inside the home.
A kids indoor trampoline can be used to get a baby or toddler to begin becoming physically active in a fun way. They are safe since they are created with children in mind, which is why there are so many features like extra padding and cushioning. They are also great for play time, so the children can have a good time indoors. Besides jumping up and down on it, children can use it as a mat while reading or watching television. If you are shopping for toys for a baby or toddler one of these will make a great gift.
Mini Trampoline Overview
For the most part, smaller trampolines are geared towards those between the ages of three to five. After using, they are foldable for easy storage and are portable. Most of these products can accommodate a child up to 77 pounds without tipping over. However, it depends on the weight of the child and the type of activity that is done on the mini trampoline to know how it will withstand. For example if a child is jumping vigorously on it, even if he or she is under 77 pounds, there is a very good possibility that the trampoline will shift.
Adults will like the fact that trampolines for kids are not that expensive and their children will love these as a birthday or Christmas gift. The prices generally range between $40 – $80. Compared to some of the gaming systems and other electronics these prices are very reasonable. Not to mention, with a gaming system, children just sit on the couch and floor for hours. At least with a small trampoline, children are active and moving around getting some form of exercise.
Who Would Benefit from a Kids Indoor Trampoline?
All parents with a baby or toddler would benefit from purchasing one of these small trampolines. It will keep children occupied and healthy all at the same time. From three to five years old, children are starting to become active running, jumping, and climbing up on furniture. This way, they can be active in one spot. Jumping will also help prepare them for any outdoor sports they play once they become older.
Popular Mini Trampoline for Kids
Little Tikes Trampoline 7ft
For those who prefer a trampoline which can accommodate your children for a few more years as they grow, the Little Tikes 7′ Trampoline  would be a great gift. Although it lacks a handlebar which many prefer for the 3-6 years old, this trampoline can accommodate jumpers as they mature. It does come with a full enclosure making up for safety features which may be lacking due to the missing handlebar. This is also a great candidate to turn into a ball pit. Depending on the size of the balls you would likely need to order 300-500 balls and get double use out of this toy. Most toddler trampolines are not fully enclosed and cannot be used as a ball pit for kids. The manufacturer recommended age is from 3-10 years. Therefore, most should be able to get a few more years of usage. Read More On Little Tikes 7ft Here⇒
Pure Fun Kids Preschool Jumper 36″ Trampoline
This is one of Pure Fun's newer mini trampoline. It is made for children ages three to seven years old. This kids trampoline has a 75lb weight limit. The base of the trampoline is 36″ x 36″ which is large and one reason why we love this trampoline. If gives little jumpers plenty of jumping area. The surface is also labeled with colorful letters which should help your little ones learn them quicker. The springs and frame is fully covered to help keep your kids safe while jumping. Another feature we really like is the inclined handle bar. This helps keeps your children near the center of the jumping surface instead of the edges. The last thing we really love about this particular mini trampoline is the price. If you're looking for a great toy for you kid this could be it. Pure Fun Preschool Jumper Reviews⇒

My First Indoor/Outdoor Trampoline Combo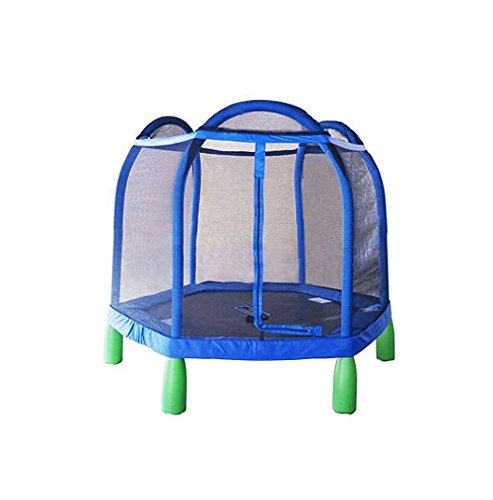 My First Indoor/Outdoor Trampoline Combo is great for children.  It is made for children ages three to ten years of age and up to 100lbs.  It's a small trampoline with net that weighs less than 60lbs. Unlike most trampoline sets, which are exclusively made for outdoor use, this particular set is great for both the indoors and outdoors.  It can easily fit into an indoor space; ideally, one's basement or a spacious playroom.
This trampoline also has great safety features, which makes it a good buy for young children.  It is fully enclosed with a safety net, which ensures that the children using it w ill not fall out and hurt themselves.  The enclosure itself is made of sturdy steel poles and PE netting.  It also features safety springs, which are covered in durable pad protectors, for safe bouncing action for your kids.  My First Indoor/Outdoor Combo is made of high-quality materials that will not easily break, making it perfectly safe for your children. My First Trampoline 84″⇒

Skywalker 48″ Round Zoo Adventure Bouncer W/ Enclosure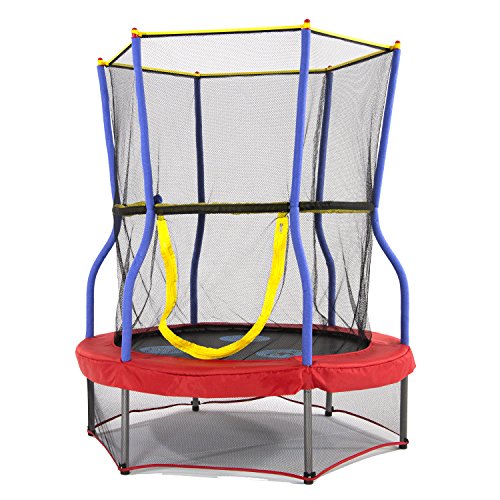 This style of mini trampoline is quite unique from the standard ones. First, it is enclosed, with soft padding for safety. Also, instead of a handle situated at the front, this toy has a 360 degree handle to help toddlers develop their balancing skills. To engage children visually, there are zoo animal pictures inside as well. The wide base and arched enclosure keeps this mini trampoline from falling over.

Because of its unique shape, the Skywalker Trampoline can be a tad difficult to assemble in comparison to that of the Galt version. Also, because it is enclosed, it will be smaller than other mini trampolines. Therefore, there might be an issue with how energetic a child can be using this toy before it starts to wear down. However, unlike most mini trampolines, this one has a 100 lbs. weight capacity, so it is made to endure a lot of activity. Skywalker Adventure Bounder Owner Reviews⇒

These are an ideal way for children to get exercise, develop their mobility, and release energy in a positive way. When it comes to which one you should choose, it is best to take into consideration the size, weight, and height of the little ones that will be using it.
If you are also looking to turn your enclosed trampoline into a ball pit for kids please click here⇒
Benefits of a Kids Trampoline with a Bar
As a parent or guardian, you want your little ones to have a fun time when they play with toys. You will try to find toys that will not only keep them occupied, but you want them to be safe as well. A trampoline is an apparatus that is well-known for having a great time jumping and playing on. Some typically come with a bar, so that little ones can hold on for balance while jumping up and down. Toddler trampolines are definitely smaller in size (in contrast to a full sized trampoline), and it can be used in the living room, where you can supervise your toddler continually.
Mini trampolines are a great for toddlers because they can assist them with developing their motor skills. Even if it is snowing or raining outside, you child will be kept occupied playing on the trampoline.
Risks of a Kids Trampoline
While the obvious advantage of purchasing a kids' trampoline with a bar is for the added security of your toddler having something to hold on to while they are trying to keep their balance, there are a few disadvantages as well. The biggest risk is your young child hitting his or her head on the bar, especially if they are jumping to close to it. Furthermore, your child can inadvertently hit their mouth, arm, or other parts of their body, causing serious injury. For more information on trampoline safety, read our post here.
Popular Kids Trampoline with a Bar
There are several versions of kids' trampolines with a bar on the market today. While some are just a small trampoline with a bar, others possess other features such as built-in games or fold and go portability. It depends on what and where you intend on letting your toddler play. Below is a comparison of product review of some kids' trampolines with a bar.
Fold and Go Mini Trampoline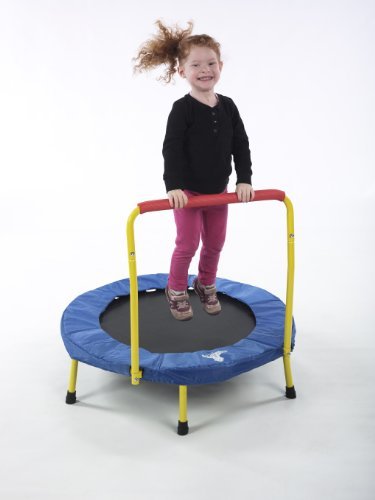 The Fold & Go Mini Trampoline is in a category of its own, as it does serve a particular need, small jumpers. This kids indoor trampoline is designed to be set up quickly, yet provide all the safety features you would like to protect your children as much as possible. Manufactured by the Original Toy Company, whom specializes in children toys and play equipment, the Fold & Go was designed specifically to do what it says, Fold and Go. See below how easy the setup process is.
This is about as easy as they come with regards to setup. Because the trampoline utilizes spring bands as opposed to springs, it is much safer for children. It also only has 4 screws making the setup very easy. Once your children grow older the bar can be removed and the kids can still jump on it. The 150lb weight capacity is higher than most mini trampolines. This is a very popular toddler trampoline that has been thoroughly reviewed by customers. Many owners love this little trampoline and are glad they purchased it for their kids. Read Owner Reviews⇒

Skywalker Trampoline 36″ Bouncer with Spinner Counting Game
Among trampoline aficionados, Skywalker is famous for constructing top-quality trampolines. It comes with sturdy, stable steel frame and legs to keep it from wobbling and tipping over on the carpet or grass. The padded, comfortable handle bar helps children with balance, and the spinner counting game attached adds to the fun dimension of this trampoline.
Your little ones will start learning their numbers with the big, multi-colored numbered squares that make up the jumping mat. For extra bounce and give, the jumping mat is surrounded by large stretch bands. The weight capacity for this Skywalker kids' trampoline is 60lbs., and it is ideal for children from 3 – 6 years of age. Read More⇒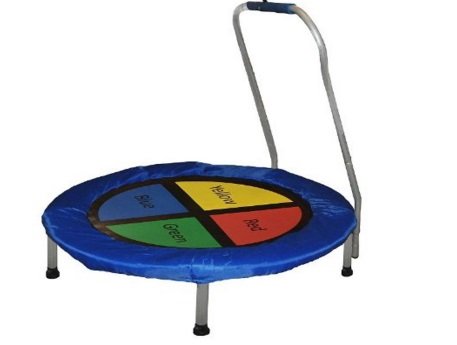 Pure Fun Kids Jumper Trampoline
A perfect gift for children 3+ up and up to 75 lbs., the Pure Fun Kids Jumper doesn't require any additional tools to assemble. The tools needed to put this toddler indoor trampoline together are included. Like the Skywalker, the Pure Fun Kids Jumper is constructed with galvanized steel for added durability. Unlike the Skywalker, the frame on this kids' trampoline is padded to protect your little one against injury when they fall down. The nice bright blue and orange color will attract your toddler to spend as much time on this apparatus as possible. Read More On The Pure Fun Kids Jumper Here⇒
As with the Little Tikes and the Skywalker Kids' Trampoline, there is a handle bar with thick foam padding little ones can hold on to while jumping up and down. This is the ideal toy for parents, guardians, or grandparents looking for a small trampoline for toddlers to have an amazing time indoors or outdoors. The jumping mat is constructed with a durable vinyl covering to protect it from wear and tear. Read More Here⇒

Little Tikes 3ft Trampoline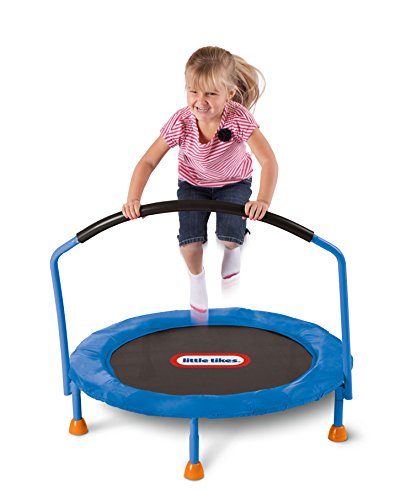 Similar to the Skywalker and the Pure Fun Jumper, the Little Tikes has the padded handle bar that little ones can hold on to for stability while having fun. The only difference is that the handle bar on the Little Tikes 3 ft. Trampoline is located across the middle, while the handle bar on the Skywalker and Pure Fun trampolines is situated in the front of the apparatus.
While the Skywalker and the Pure Fun Jumper are made with galvanized steel, the Little Tikes trampoline is constructed with a combination of plastic and steel. Additionally, the jumping mat is round shaped and the springs are covered, as with the Skywalker and Pure Fun trampolines, for added protection against injury. If you are looking for a kids' trampoline for your toddlers to play on inside the home and in the yard, you will have to choose between the Skywalker or the Pure Fun trampolines. The Little Tikes trampoline is for indoor use only.
The Little Tikes 3 ft. Trampoline is for children 3 -6 years of age, just like the Skywalker Trampoline and the Pure Fun Jumper. Little Tikes is famous for delivering top-quality children's toys that will allow them to have a fun time and keep them safe as well. As with the other two, this Little Tikes trampoline is ideal to starting little ones off early learning the importance of being active and keeping fit. In addition, the Little Tikes, Pure Fun, and the Skywalker kids' trampolines are quite portable, however, they do not fold up for storage.

Bazoongi 48" Bouncer Trampoline with Handle Bar
Geared towards children four years and older, and with a weight limit of 80 pounds, the Bazoongi 48" bouncer trampoline with handle bar is different from the other minis because it comes with an adjustable handle. You can read more about mini trampolines with handle bar here.  This is a great feature if you have children of different ages and sizes that will be using it. Like with the other mini trampolines, this version comes with extra padding around the spring part in the form of a blue outer ring. It completely covers it so that little feet will not get stuck in one of the springs of the jumping mat.
One concern by some parents is the sturdiness of the legs. It has been noted that even with the extra two legs that other kid trampolines do not have, there has been wobbling or tipping if the child jumps hard on the mini trampoline. Bazoongi Mini Trampoline Pricing⇒

Galt Folding Trampoline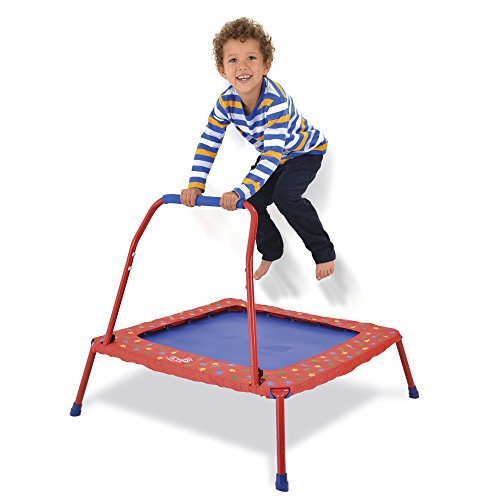 This small trampoline makes for a wonderful gift and has been tested for durability, and it is sturdy enough for kids to enjoy for a number of years. Galt is well-known for creating children's toy games that are safe and meet the highest standard for children's toys. With children in mind, there is extra padding and cushion so children are less likely to hurt themselves if they fall.
One of the best features of this mini trampoline is that it is foldable and can be easily stored in a room. To make it simple for you, the handle screws off and the legs collapse. Also, it is portable and can be used for indoors and outdoors. If the bungee becomes worn, it can be replaced and there are a few places to purchase it. Check out the Galt Bungee replacement cord here.
It is easy to assemble and can withstand a lot of vigorous jumping up and down. As with any toy, you should supervise your child when they use it until the child gets use to it. Additionally, a good recommendation is to sit this toy on a soft rug just in case the child falls off. 
Galt Folding Trampoline Owner Reviews⇒

Mini trampolines that have a bar are great to let your child burn off that excessive energy in a positive way. It also lets them be active while having a fun time. Parents can give their little ones a chance to learn mobility, strengthen their leg muscles, and help with coordination. Even though all of these kids' trampolines possess a number of safety features, as with any trampoline, they should be supervised at all times. Adults want a way children can have fun and be safe at the same time, and kids' trampolines are the perfect solution.
It is also worth noting that several trampolines with a bar exist which are for adult usage. Most of these trampoline include a handle bar to provide a stabilization point while exercising. Trampoline Exercises are a great way to stay in shape and get a workout that differs from the standard treadmill grind. Finally, there is no better way to display proper usage of a trample (especially for exercise benefits) than for you to be able to show your children in action. Take a look below at a few adult trampoline which are top rated.