Welcome to the Trampoline Review Guide. Our site provides comprehensive reviews to help you make the correct choice for the best trampoline and accessories for you and your family. We have compiled all of the data for you in one central location here.
The brands we have reviewed are Springfree, Skywalker, and many others. We have narrowed the options to save people like you time. We take pride in providing you with honest and unbias trampoline reviews.  A trampoline is a big family purchase.  So choosing the right one for you and your family is of utmost importance. There are many factors to consider when purchasing a trampoline from safety to price. Take a look below at the review comparison chart, as well as each in depth trampoline review to help you choose the right trampoline.
Take a look at our new reviews for the Best Trampolines of 2018 here!
Comparison Table
Best Round Trampolines for The Backyard
SkyBound Stratos 15ft Round
Th SkyBound Stratos 15ft round trampoline is incredibly unique in shape and function from most trampolines. There are 12 poles on the safety net rather than the typical 6 or 8, for extra support and the ability to create a more concave and circular shape of the safety net.
The shape means, even more, space to bounce around, but without sacrificing safety for the family. The shape appears complex, but this model is incredibly easy to assemble. All parts are included, and it all attaches together with push-pin bolts for easy but secure installation and set-up.
The net attaches via velcro straps and pole sleeves. The concave frame comes with a 10-year warranty, and the other parts are covered under warranty as well but for various amounts of time. The support is also rust resistant.
One thing this trampoline needs, though, is flat ground. The concave shape makes for great fun while bouncing, but for good balance and support, the trampoline should sit on the flat ground.
Despite this, the pros definitely outweigh the cons with this model. Also, the SkyBound support team is incredibly helpful. SkyBound Stratos trampolines promise lots of bounce and entertainment for the whole family for years to come.
Pros
Easy Assembly
Great Warranty
Excellent Customer Support Team
Cons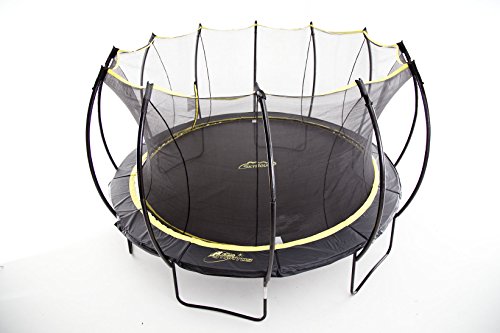 Acon Air 14ft Round
This slightly larger Acon Air 14ft round trampoline model is extra safe, extra bouncy, and great for families of all ages and sizes. The Acon Air 14ft includes a full enclosure with thicker pipe support for stronger safety nets and even more bounce area.
This trampoline, with its thicker support pipes and its extra thick outer rim padding, also does not need the safety mat, which normally takes up some of the bounce areas, meaning that much more fun space for the family! This model does not include a ladder, but that is because the trampoline is only 36 inches off the ground, so nearly the whole family can easily climb on.
The extra support and the five-year warranty also means that this product can withstand stronger weather conditions and can stay outdoors all year round.
Also, the Acon Air does not have a single-person weight limit, so children and adults can both enjoy this trampoline any time of year!
The downside to this model is its price tag, which can be somewhat intimidating. However, for anyone willing to make the long-term investment, this trampoline will last through the years. So we think it's well worth it in the long term.
Pros
No Single Person Weight Limit Means Great for Kids and Adults
Designed to be Used All Year Round
Frame Has a 5 Year Warranty
Cons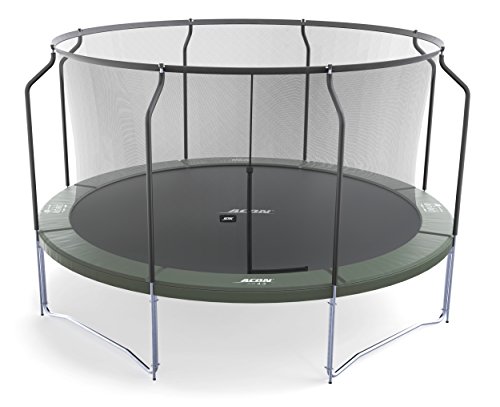 Zupapa 12ft Round
The Zupapa 12ft round trampoline is a great starter size for families looking for trampolines and comes with a TUV certification that ensures that this model is safe for children of all ages. The trampoline comes with multiple (and some optional) parts, including a ladder, safety padding on the outer rim, a net enclosure to encompass the bounce area, and rain covers.
The safety padding on this particular brand is more padded than most trampolines for extra safety, living up to their safety certification. There are also extra springs on this Zupapa model for extra (but safe) bouncing for kids of all ages.
This particular trampoline also has a higher weight limit than some smaller trampolines, sitting at around 330 pounds. The steel and springs on this trampoline are also rust-resistant, which makes it a great model in terms of longevity for families.
The downside of this model is that it only comes in blue, meaning there is no real variety. The warranty of each part is also different from the other parts, which can prove confusing in some ways.
Overall, the size, safety, and ease of assembly of this 12-foot model make this trampoline perfect for families of all sizes.
Pros
Weight Limit of 330lbs
Easy to Assemble
Includes Safety Pad, Ladder, Enclosure Net and Rain Cover
Cons
Warranty Length Varies by Part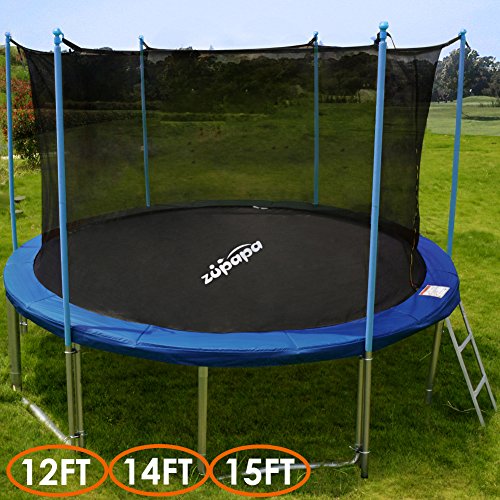 Skywalker 10ft Round
The Skywalker 10ft round trampoline is great for families who do not have a ton of space but are still hoping for some great fun. This ten-foot trampoline does not take up a lot of space in comparison to other trampolines, and still has a great bounce.
The weight limit sits around 175 pounds, making it ideal for children's imaginations and ensuring no one will be left out. The 10ft diameter, with a padded outer rim, leaves enough space for safe bouncing.
It also includes a tall safety net, which is supported by strong steel that is rust resistant. The legs and structure are also rust resistant, making this trampoline especially safe against water damage. This model also comes in a variety of colors, including green, blue, pink, and red.
One pitfall of this particular trampoline is that the included instructions leave something to be desired, and a decent amount of the setup and maintenance of the trampoline is to be determined as time goes on.
The verdict for this trampoline is that it is a great compact size, good for small families, has strong support, and provides fun entertainment for young children (ages 3 and up) for a very long time.
Pros
Weight Limit of 175lbs
Ideal for Smaller Yards
Multiple Colors Available
Cons
Instructions Are Not Great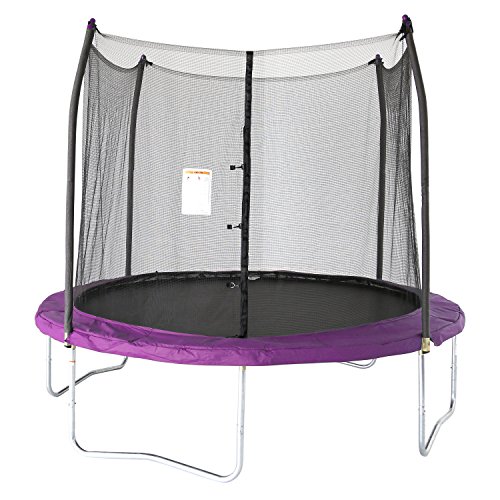 Skywalker 8ft Round
The Skywalker 8ft round trampoline is great for anyone who wants a trampoline that doesn't take up a large amount of space. When fully set up, this model is low enough to the ground that no ladder is needed in order to climb onto the trampoline, so it is great for families with young children and preteens. It also includes a safety net for the perimeter of the trampoline jumping area, which is another great bonus for children, or anyone worried about safety.
This model comes in different colors, specifically green and blue. Even without the optional safety net, the outer rim of the trampoline is padded for extra protection. The total jumping area is around 37 feet, which is a good amount of space for groups. The weight limit is around 175 pounds, so it is suitable for children's play dates.
Overall this compact trampoline is a great price for anyone looking for a smaller trampoline style without losing any of the fun.
Pros
Weight Limit of 175lbs
Low to Ground
Multiple Colors Available
Cons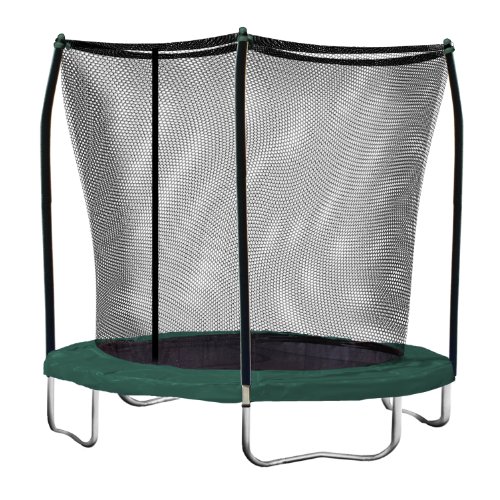 Backyard Trampoline Purchasing Considerations
Safety
This is every parent's top concern when purchasing a trampoline. Although most of those purchasing the trampoline grew up in an era of standard spring trampolines, six people jumping at once, and surely no enclosure, trampoline safety has come a long way.
Now available are Springfree trampolines, net enclosures and a variety of pads to protect those trampolines that do contain springs. The safest trampoline will definitely be one which includes an enclosure to prevent children from accidentally falling off. Read our report on the safest trampoline before making your purchasing decision.
Springs or No Springs
A relatively new concept in the world of trampolines is a Springfree trampoline. Anyone who has slipped through the springs of a trampoline should consider a Springfree.
I know as a child (and maybe guilty as an adult as well), I have gone up for a jump and came back plunging through the springs. Not so comfortable, especially for the men and boys.
Now available are Springfree trampolines which are radical new inventions to the trampoline world. Although a springless trampoline is in no way a complete solution to trampoline safety, it sure does eliminate one dangerous aspect of falling through the springs.
Springfree trampolines are more expensive, but then again the springs and mats do not need to be replaced as on a conventional trampoline, so this is a consideration to keep in mind.
Sizes
Is bigger always better? Not necessarily. A smaller trampoline, excluding kids trampolines and exercise trampolines, provides more of a bounce. On the other hand, a larger trampoline provides significantly more surface area for jumping. This is critical if you're like us and can't keep the adults off the trampoline.
In that case, you should consider an adult trampoline. Although not advised by us, nor the manufacturers, those that do decide to jump with multiple participants at once or partake in cool trampoline tricks, this is indeed a consideration.
You will also need to consider where you will place your trampoline. Make sure you have more than enough room in your backyard if that is where it may be located to accommodate your new trampoline. If you are interested in a water trampoline, you will want to consider how many jumpers/loungers you'd like to accommodate. In which case, you should also understand the weight limits of a trampoline.
One last consideration is to make sure the trampoline will be free from overhead hazards. All too often, trampolines are placed underneath trees/branches which can pose a safety issue in addition to a leaf collection area in the fall.
Take a look at our comprehensive Trampoline Size Guide here for more details on how to choose the right size trampoline.
Shapes
Although trampoline shape is more of a personal preference, this is another consideration to take into account. Available shapes range from round, oval, octagonal, rectangular and square.
Round trampolines are normally for home use and the most common shape.  These trampolines are bouncy near their center and normally steer jumpers to remain near the center when jumping. Round trampolines tend to be cheaper and lighter than other shapes.
Oval and octagonal trampolines are basically hybrids. They are bigger and offer more jumping area compared to round trampolines. They also tend to be more expensive than round trampolines. You will not find many options for these particular shapes but there are a few.
Historically, rectangular trampolines have been used for gymnastics/competition because they offer the evenest bounce over their entire surface. They tend to provide the best bounce heights and a large jumping area. Due to their size, they tend to be heavier and more expensive.
Square trampolines are basically smaller versions of rectangular trampolines. They tend to provide a firmer bounce which means less overall jumping height.will provide more lift and a firmer bounce. You will find that many kids trampolines are square, as are many adult exercise trampolines. Springfree has even recently put out an 11′ & 13′ square model.
Accessories
Some trampolines accessories are a necessity and others just add to the fun of owning a trampoline.
Trampoline ladders are a necessity and most of the top brands have their own version. Some trampolines come with a ladder and others do not so keep that in mind when considering the overall price. They help kids go onto and off of trampolines safely. We prefer the ladders with plastic steps because metal can get quite hot during the summer months. There are also rope ladders you can buy for your trampoline.
Anchor kits are a necessity in our opinion. Trampolines can be a big investment so you might as well spend the extra money to secure that investment in place. During storms and high wind situations, trampolines can easily be blown away if they are not properly secured to the ground. Also, anchor kids can be a theft deterrent.  You will have to buy your anchor kit separately.
Spring pulling tools are a must-have. It makes pulling the springs into place a lot easier during installation. Some trampolines will come with one and other will not but these are pretty cheap items. Please be careful because some of the cheaper spring tools have been known to break.
Trampoline covers are great investments. They will protect your jumping surface from the sun, dirt, rain, bird droppings and more.
Shoe holders are a must have but a nice thing to have. It keeps all of your kids' shoes store neatly under the trampoline.
Trampoline tents are a fun way for your kids to hang out on the trampoline. Some people even allow their kids to sleep in the tent at night. It is high off the ground so your kids do not have to worry about getting wet from the dew on the ground.
Trampoline basketball hoops are another way to keep your kids interested in their trampoline. Some trampolines like the Skywalker Jump and Dunk come with the basketball and hoop but there are also aftermarket ones you can purchase.
Bounce boards are another item that can be added fun for kids. They are especially great for kids who like to skateboard or ski board. They allow them to try tricks and the soft board.
Safest Trampoline Brands

There are a lot of trampoline manufacturers. Each one strives to be the best and provide the most safety features. The truth is, there are only a few trampolines that can be put at the top of the category and be considered the safest.
If you are a parent who is considering a trampoline for your child, you will want to make sure that you are purchasing a trampoline that is safe for your children. You also want to know that you are getting one that will last many years. That is why we have come up with a list of what we feel are the top trampoline brands.
Skywalker
Skywalker trampolines are a very popular brand. They are known for creating safe trampolines that families can enjoy without worry. They carry a wide range of trampolines such as round, rectangle, square and oval.
Skywalker offers a limited manufacturer's warranty that covers manufacturing defects that may occur when you are using the trampoline the way it is intended. This warranty is good until the 90-day mark after purchase and covers the enclosure netting, spring pad, plastic hardware, and jump mat. You have a longer, one-year limited warranty on the frame and spring.
They offer American made trampolines and their primary location is in Brigham City, Utah. Skywalker trampolines were founded in 2004 and meet all ASTM safety standards.
They provide a lot of easy ways for you to make contact with their customer service. You can contact via phone, mail, or internet and typically your inquiry will be handled within a day, even if you send a message through the computer. They are really helpful and will take care of any issue that you may have with your trampoline as quickly as possible.
We Love the Skywalker 15ft Rectangle With Enclosure 
The Skywalker 15′ is for the most serious of jumpers or to be used as an adult trampoline. The rectangular shape naturally gives the most lift for jumpers, as opposed to round trampoline with a softer bounce. However, the rectangular trampoline makes a serious effort towards safety with its included safety enclosure.
A galvanized steel frame ensures durability through all weather conditions. The enclosure offers t-socket locking frame construction adding to the durability and stability. Being a traditional spring trampoline, safety is always a concern; 1″ thick foam padding is offered as a cover for the otherwise exposed springs.This is one of the best trampolines for the competitive jumpers such as those involved in gymnastics or competitive jumping. →Full Review

Springfree
Springfree is a brand that has been around for many years, but first, it was an idea that Dr. Keith Alexander worked on for 15 years to ensure he had it right. Their first trampoline was sold in 2003 to someone in New Zealand.
As the name implies, it is spring free and it has earned the title of being the safest trampoline in the world.They also offer a great warranty if you choose to register your product. The frame is covered for 4 years or 8 years based on whether you register or not.
For the mat, rods, and net, it is a difference of 1 year or 2 years. Either way, you choose to go with it, the outstanding customer support team will be there to help you with any questions or concerns you may have about your trampoline.
It has also earned an award for being Product of the Year award in 2010 in both the US and Canada. In Australia, it earned the Good Design Award in 2016 and the 2011 Kidspot Best of Award. Other awards include the RedDot Product Design award in 2014, Toyology Outdoor Toy Awards, and much more including several Parent's Choice Awards.
In 2013, Springfree has paired up with Tgoma and now gives children, and parents, more reason to get outdoors and bouncing to better health.
We Love the Springfree 13ft Square
The S113 Springfree trampoline is our top-rated pick for safety. Aside from already setting itself apart from the trampoline competition by being spring free, the additional safety features offered are next to none.
The square design offers a nice compromise between bounciness and softness. As outlined above, rectangular trampolines offer more of a spring, and round trampolines offer more of a softer bounce. The square shape offered by the S113 Springfree is offering up the best of both worlds.
For the parents out there, this is by far the safest trampoline on the market. Boasting no springs, flexible response enclosure and a durable base construction make this a no-brainer for those who like the best of the best.
However, that does not come without a big price tag. This trampoline happens to be one of our top picks, but it also happens to be one of the more expensive trampolines. →Full Review 

Zupapa
A lot of the Zupapa trampolines have an extra high safety net that not even bouncing adults would be able to see the top of. They also have shoe holders so that people do not have to worry about the dog stealing them, ladders that ensure kids will not find other ways to get on it, and covers to keep the trampoline safe when it is not in use. It is a cost-effective choice in trampolines, often costing less than $500.
Zupapa trampolines that meet all safety requirements of the TUV, a German organization that works to protect people and animals. The warranty is limited and lasts for 6-months for the trampoline pad and nets, 1-year for jumping mat and springs, as well as a three-year warranty on the frame.
We Love the Zupapa 15ft Round
If this trampoline looks more like the conventional trampoline you are used to, then you're right. This is the traditional style round trampoline, but yet 15′ in diameter. This is an excellent choice for family fun as the round construction will offer a softer bounce compared to that of a rectangular trampoline.
Constructed out of heavy-duty galvanized steel ensures this frame is rust resistant and will last through harsh environments. Although the trampoline cannot be viewed as safe as a Springfree trampoline, the Zupapa 15′ does come in a much lower price point, making it an ideal consideration for those looking for the best trampoline on a budget.
It also has a higher weight capacity than most round trampolines which means a single adult can have fun jumping too. →Full Review
Read about more Heavy Duty Trampolines here.

ACON Air
ACON began as a company in Finland that produced innovated products that would make people want to get up and get outdoors. They expanded into ACON USA Inc in 2014. This allowed them to further extend the product range into the United States.
They currently are the only trampolines on the market with a no single user weight restriction. This should indicate how well designed and built these trampolines really are. They are like tanks. Due to this strong design, they do tend to weight more than most trampolines.
Their customer service team is available during normal working hours, but they are based in Monticello, MN so you should keep in mind they are a part of the central time zone. You can call or you can send an email and you will be contacted within 24 hours.
All of the ACON products come with a standard 1-5-year warranty, but you will need to check with your specific product to find out exactly how much coverage you have.
We Love the ACON Air 15ft Round
This trampoline is made from heavy-duty materials such as galvanized steel and six times cross sewed polypropylene UV treated mat. The trampoline and premium enclosure weight almost 300 lbs. It also has no single person weight limit which also makes it fun for adults.  The company recommends leaving the trampoline assembled outside all year around. All of these factors show you just how durable this trampoline is. The only real drawback is this trampoline is priced considerably more than trampolines similar in size. But like the saying goes "You get what you pay for". →Full Review

JumpSport
Since 1995, JumpSport has been a family owned and operated business in San Jose, CA. They invented and perfected the idea of trampoline safety enclosures to keep children safe from falls.
To date, they have been awarded several times for their efforts. They have also had features done on their product on television news shows and more. They are very safe trampolines. If you take a few minutes to register your new trampoline, you can take advantage of the Fail-Safe Guarantee.
If you choose the Classic trampoline, you are covered for 5 years, the Elite has 7 years of coverage, and the Sports covers you for a full 10 years.
Their website provides a lot of helpful tips on how to care for your trampoline to give it the most amount of life.
However, if you have an issue that is not covered by the tips, you can contact a customer service team for help. They are available Monday-Saturday. You can call, email, or write to them.
We Love the JumpSport 10′ x 17′  Rectangle
The JumpSport 10′ x 17′ rectangular trampoline has are very large jumping surface. The frame is made from cold rolled steel and it comes with a 10-year warranty.
JumpSport's patented StageBounce technology is implemented into this particulate trampoline. This is basically where 50% of the springs engage immediately and the other 50% engage a second or so later. The StagBounce technology makes the trampoline mat more forgiving and further reduces the chance of injury.
This is one of the more expensive rectangular trampolines but after reading other customer reviews the price may seem more reasonable.→Full Review
Little Tikes
Little Tikes is a name that many know and trust when it comes to their children's safety. They make outdoor toys that are fun and enjoyable for parents and their children. Little Tikes focuses on mini trampolines that are usually for kids under the age of 10.
They have been in the business of entertaining little ones since 1970 when it was founded. The company is headquartered in Hudson, Oh, where it all began. You can easily contact customer support Monday through Friday from 8am-8pm.  The average warranty coverage for a product is 1-year from the date of purchase.
We Love is the Little Tikes 7ft
The Little Tikes 7ft trampoline has a great enclosure to ensure your little ones do not fall off. That is the main reason we prefer this trampoline over mini trampolines with a bar. All of the springs and frame are covered for extra safety. The frame is made of blow-molded plastic and steel.
It is recommended for children age 3-10 and who are under 100lbs. So if you have little ones at home you should get years of usage out of this kids trampoline. The manufacturer recommends only using the trampoline for outdoor use. Trust me you won't regret buying this trampoline for your kids!→Full Review