In Ground Trampoline: Costs and How To Build an Underground Trampoline
Some people think that trampolines are only available to sit on top of the ground in their yard. This can cause people to worry about all the risk involved in owning a trampoline and when combined with the bulkiness of having one in their yard, may prevent them from enjoying one of the best ways to enjoy daily exercise. Now, there is a better way to enjoy jumping on a trampoline. An in ground trampoline is safer than traditional trampolines and according to many people, much nicer to look at in their yard.
What is an In Ground Trampoline?
An in ground trampoline is a trampoline that has the frame buried under the surface in a hole. It has the same support as an above ground, traditional trampoline, but there is less risk of kids falling off of it while playing. It is also more appealing to see a sunken trampoline in the yard instead of having a metal frame that stands out.
Some sunken trampolines are designed specifically for in ground use, that is, they come with the necessary parts/supports for in ground installation. They have heavier duty steel and some may have walls rather than legs for you to bury. These trampolines are significantly more expensive in some cases, depending on what type of trampoline you want. This has led to many people choosing the DIY underground trampolines instead, where you simply lower your trampoline into a pit.
Are In Ground Trampolines Safer?
A misconception we hear is that in ground trampolines are safer. If there's no safety net the chances of a kid hurting him or herself is just as great as an above ground trampoline. If any child falls from 5 feet or more onto the hard ground there is a chance for injury. Also the hole where your trampoline sits in the ground needs to be bigger than your trampoline so it gets proper ventilation. This provides a gap where feet and hands could get caught in, which could lead to a severe injury.
In Ground Trampoline Costs
An underground trampoline will cost you a lot more money than an above ground trampoline. If you are really concerned with the atheistic looks of a trampoline in your backyard or live in a high wind area which could damage your trampoline maybe you should go the in ground route. There are some trampolines that come with the retaining wall which all are above $1000. For people going the DIY route you can buy the materials for a retaining wall which can cost as much as a trampoline depending on which one you buy. Then you have to factor in the time and costs to dig the hole. In the end a sunken trampoline will likely cost two to three times more than an above ground trampoline.
Underground Trampoline Installation
Learning how to put a trampoline in the ground is not hard. Often, even the DIY type project is only a complicated process during the planning and digging stage. The rest of the assembly can mostly be completed within a couple hours. You simply plan out and dig your hole, set the already assembled trampoline into it, and put back some of the dirt to help support the trampoline. Please remember to dig a hole large enough so there's a gap between the edge of the trampoline and the retaining wall. Without this gap the air will not be properly ventilated and the jumping surface will feel harder. This will lead to kids not being able to jump as high.
Which In Ground Trampoline Type is Best for You?
If you are considering the option to put a trampoline in the ground where it is safer and much less of an eyesore, you may be wondering about in ground trampoline cost. One of the best ways to explain the cost is to explore your options. Here are a few products that you may want to consider looking into.
This is a trampoline that is designed to be put into the ground. It is made of galvanized, powder coated steel frames, and stainless steel hardware. It has 120 galvanized springs that are 8.5", which is larger than some traditional trampoline springs. The jump surface is made of heavy duty polypropylene and it will resist UV rays for long term durability. The spring pad cover is extra wide and available in either blue or green. Total, the trampoline will weigh about 330 pounds and you will need a couple people to help you sink the assembled trampoline into the pit.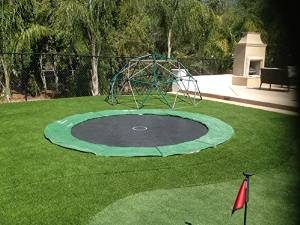 The problem most people may have with this style is that it will cost you. You can expect to pay about $2,000.00. Check here to see current discounts. If this price makes you cringe, here are some trampolines that make great options for an in ground trampoline DIY project.
DIY In Ground Trampoline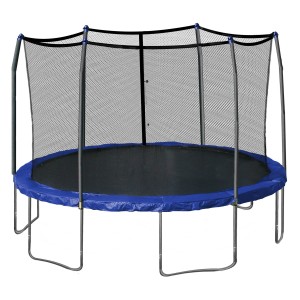 Whether you want to use the enclosure on your ground level trampoline or not, you may enjoy having that option. This trampoline is 15ft in diameter and has reinforced T-sockets to stabilize the enclosure to the trampoline frame. The entire frame is made of heavy gauge galvanized steel that will resist rust and has six W shaped legs. The enclosure, if you choose to use it, attaches using V-rings and it also has a unique button hole attachment option to keep it securely attached where it needs to be. Total it will weigh about 126 pounds fully assembled. This is one of our

most popular trampoline because the price point seems to be just right for most potential trampoline buyers. Read Our Full Skywalker 15′ Review Here⇒
This trampoline has a 15 year frame warranty and it is easy to put together. The diameter of the trampoline is made of 14 gauge steel that is 1.75 inches in diameter. It is taller than most other trampolines. There are 96 8.5 inch springs and the mat is made with permatron. Total, this trampoline weighs 337 pounds once assembled. It is extra bouncy and able to keep up with even the most extreme jumping routines and perfect for cool trampoline tricks. Read Our Full JumpSport Trampoline Review Here⇒