Best Trampoline for Adults: Large Trampoline Reviews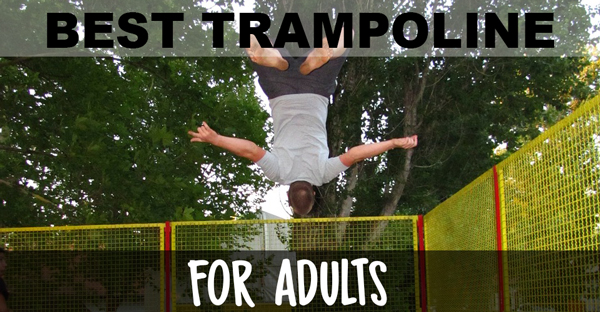 Who says
only children can play on a trampoline
? You too can have a blast and get some great exercise with a trampoline for adults.
Regularly jumping on a trampoline has a lot of benefits for both children and adults. These include improving your coordination, balance, concentration, muscle control, and motor skills as well as providing a great source of exercise.
So, how do you choose the right trampoline fit for your needs? Check out our guide on these high weight capacity trampolines.
Top 3 Adult Trampoline Comparison Chart
Most Durable

Most Popular

Largest

ACON Air 15ft Round

Magic Circle 16ft Octagon

Vuly X-Large

Shape: Round
- No weight limit
- Safe

Shape: Octagon
- Integrated safety cage
- 450 lb weight limit

Shape: Round
- Large jumping surface
- Easy to assemble

Click Here for Price

Click Here for Price

Click Here for Price
So, how do you choose the right adult trampoline fit for your needs?
First, you should consider the size. Smaller trampolines are best for children, or if you are looking for a specially made indoor exercise trampoline. Six foot trampolines are for young children, while trampolines that are 10 foot and above are for teenagers and adults. For a review of all our trampolines, check our homepage here.
The next things you should consider are the accessories. To avoid accidents, your trampoline should have an enclosure. It should also have a ladder, so that no one will have to jump down. You may also have a weather cover to protect it from the different elements, if you plan to use it all year round. Check accessories here.
Finally, you should take a good look at the frame, which is the heart of the trampoline and most difficult part to replace. With the right frame, you can assure the longevity of your trampoline.
Best Adult Trampoline Reviews
Kidwise Magic Circle 16ft Octagon Trampoline
Click To See Best Price
This trampoline is built to last with a 14 gauge galvanized steel frame that is thick as a nickel. It also has a 10-year frame warranty, which guarantees its longevity. It also provides a more enjoyable bouncing experience with its 8.5-inch tapered spring. If you want that gymnastic bounce, then this a great trampoline for you. Read more about
gymnastic trampolines here
.
Assembling this trampoline is very easy. No bolts and tools are needed to put it together. And it only takes about 30 minutes to put it up according to other owners.
This trampoline has a 450-pound weight limit. This is one of the highest weight capacities in the trampoline industry.
The Magic Circle 16-feet is huge, which provides a fun and exciting bouncing surface. There are 112 springs attached to the trampoline. That is 14 on each side with safety pads attached to the first and last springs. It is sewn into an integrated system, making it free from any possible openings.
It is specifically made for outdoor use, requiring no maintenance for an all year round fun. Its pad is UV-protected, which means it won't lose its color for many years. Having fun while developing balance, dexterity, and coordination has never been better with the space and quality that this brand provides.​ Read more owner reviews here.
ACON Air 15ft Round Trampoline
Click To See Best Price
Acon Air is a relatively new trampoline manufacturer in Finland. The weather there can be pretty extreme and therefore they make some heavy duty trampolines. Their trampolines are some of the heaviest on the market and have some of the highest weight capacities on the market.
The Acon Air 15ft adult trampoline comes with thicker galvanized poles, heavy duty springs and 6 times cross sewed polypropylene UV treated mat. This trampoline is designed to be used all year long and weighs almost 300 pounds. There is no single user weight limit and a total weight limit of 800 pounds. This trampoline can easily accommodate three or four adults. This is a great trampoline for parents with older kids because they can all jump on it together. We do not recommend parents jumping on trampolines with smaller kids because there's a higher risk of injury due to the size differences. If you're looking for a sturdy trampoline with a 5 year warranty on the frame this is the trampoline for you​. Read more owner reviews here.
Vuly Thunder X-Large Trampoline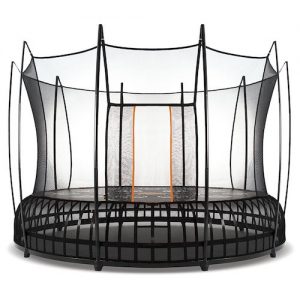 Click To See Best Price
The UV-rated Silk Terylene enclosure net is sewn directly to the mat. This helps prevent fingers from being caught up. The net is very strong and durable. It also feels soft so it should not scrape or burn skin if someone rubs against it.
The patented Leaf Springs provide the Thunder trampoline with a bounce far superior to that of traditional coil springs. Jumpers can reach high heights with little effort.
One great feature about this particular trampoline is it only has six parts. This make it very easy to assemble. There are no nuts and bolts that you have to worry about screwing together or losing on the ground somewhere. The frame has no welds which makes it very durable even in harsh conditions.
This 16ft wide trampoline also comes with a built in step ladder. See more reviews here.
Olympic Rectangle 17ft x 10ft Trampoline
Click To See Best Price
The Olympic Rectangle Trampoline has a frame 97 x 167 and its height is 39 inch. Its frame is quite impressive with heavy 10 and 12 gauge tuf 40 galvanized steel tubing. It has 1.25 inch-thick and 13 inch-wide polytheylene foam pads that are covered with heavy-duty 20oz vinyl.
Its jumping surface is made out of first grade permatron trampoline material. The pads are custom sewn with velcro straps allowing the pads to firmly attach to the frame. It has 100 galvanized cone end springs, which makes jumping more capable of handling adult jumpers.
Stronger springs guarantee its longevity and its capacity for making you bounce. You can notice that other trampoline brands use smaller cheaper springs, which are not very reliable. The materials are made to survive any weather with springs and a frame that are weather resistant. You can use this trampoline all year long. Its weight capacity is 350 pounds.
Not having an enclosure is the one drawback of this trampoline. Read more owner reviews here.
FAQ for Best Trampoline for Adults
Are trampolines good for adults?
Absolutely. Did you know that just 10 minutes on a trampoline is more effective than a run that lasts up to 30 minutes? Using a trampoline as a workout routine is better on your joints because it absorbs up to 80% of the impact, making it pretty much the healthiest, and fun, way to get in shape!
Are trampolines safe for adults?
Trampolines are very safe for adults, as long as certain rules are followed. For example, never use a trampoline if you are intoxicated. While this may seem like the best idea ever, it can, and does, result in major injuries. Always ensure that you are 100% sober before using a trampoline.
What size trampoline should adults buy?
The size of trampoline you should buy depends on a few factors. For example, are you purchasing one to have indoors, or are you looking for one that will be used outside? Indoor, mini trampolines are best for rebound exercises, while outdoor trampolines are for fun.
When it comes to size for an outdoor trampoline, however, you will need to look at the size of your backyard to see how much room you have for a trampoline. The size you should buy will ultimately depend on the amount of free space you have for it, whether it's an indoor or outdoor trampoline.
How do outdoor trampolines for adults break?
This is a simple question that is followed by a very complicated answer, unfortunately. There are a lot of ways a trampoline can break. Improper use of a trampoline is one way to get it to break. For example, jumping around the edges where the springs are instead of the actual jumping surface.
Leaving your trampoline to face the weather elements is another great way to ruin it, causing it to break down over time and eventually for good. Dismantling it or covering it during the winter, for example, is a great way to prolong the life of your trampoline.
Overall, outdoor trampolines for adults break when they are misused and not taken care of properly.
Should I get a heavy duty trampoline?
Heavy duty trampolines, when compared to regular trampolines, are designed to hold more weight and are made of heavy duty materials. The configuration and the materials used in the frame.
You should invest in a heavy duty trampoline, as opposed to a regular one, if you have a couple of kids that are going to be using it on a regular basis and can be rough with their toys, for example.
You'll also want to go with a heavy duty trampoline if you plan on having adult jumpers, as well. If a high weight limit is needed for whatever reason, you're going to need a heavy duty trampoline.
Overall, heavy duty trampolines are made to last, so if you want one that will last for a couple of years to come as long as you are taking care of it, a trampoline heavy duty for adults is highly recommended.
Which is the best trampoline for adults?
The best adult size trampoline depends on you. There are a couple of factors you will need to keep in mind when looking into adult trampolines. Are going to be using it to workout indoors or have it outside for fun? Also, will anyone else, including both kids and adults, be using it, too? You will also have to think about any budget you may have in mind.
Pinpointing which is the best trampoline for adults is all about looking at a variety of trampolines, what they have to offer, and what they have that will suit your needs and wants the best.
What should I look for in trampolines for kids and adults?
Right off the bat, you're going to want either an 8×12 foot, a 12 foot, or a 14 foot trampoline. Your decision between these sizes depends on if you have a small family consisting of 2 or less kids around the ages of 4. If this is the case, an 8×12 foot trampoline is your best bet. A 12 foot works for kids who are around 10-years-old, as well.
However, if you are looking to buy a trampoline for kids who are 10-years-old or older an adults, then a 14 foot or larger trampoline is recommended. Where a 14 foot for both kids and adults is concerned, you'll have to look at the size of your family. Do you have more than 2 kids who would be using the trampoline, for example.
If you have younger kids who are going to be using the trampoline, you should look into a heavy duty model that comes with an enclosed safety net. This ensures that they won't fall off the edge and get hurt if they happen to jump too close to the edge.
How much weight can a trampoline hold?
Looking into how much weight a trampoline can hold before you make your purchase is extremely important, and is something that is often overlooked. The majority of adult trampolines have a weight limit of up to 400 pounds, but you can get a trampoline 450 lb weight limit if you look hard enough.
These types of trampolines, one with high weight limits, are trampoline adults can use no problem, but you must be very careful how you do it. Maxing out the weight limit is very easy to do if you have, for example, 3 fully grown adults jumping on it at once, while having 3 kids on it at once is entirely different.
Can I get a heavy duty trampoline with enclosure netting?
You sure can! These are safest types of trampolines you could possibly buy. They are made of heavy duty, durable materials that last for years if you take care of it properly, and the enclosure ensures that no one will fall off should they jump too close to the edge.
Should I get a trampoline with high weight limit?
If your family or a group of friends are planning on using said trampoline, then yes, get one with a high weight limit. The average weight limit is 300 to 400 pounds, but you can even find a high weight capacity trampoline that supports up to 450 pounds.
What are indoor trampolines for adults?
An indoor trampoline for adults is often used for a rebounding workout. They are small trampolines that are used for bounce workouts that take 80% of the impact on your joints. They are most often known as an "in-home rebounder" that is used for cardio exercise.