Springfree Trampolines: Best Trampoline Brand for Safety
When looking for a trampoline for your kids, or anyone for that matter, the most important element to consider is safety. In fact, many people will tell you that trampolines are not safe for children and to avoid them at all costs. The truth is that riding a bicycle can be dangerous for kids. They can fall off their bike and hit their head and let's not even talk about the traffic.
Are you going to lock up your kid and never let them outside in fear they may get hurt? Although that might sound kind of appealing and as much as we want to keep them safe, that just isn't going to happen. Instead, you make your children wear a helmet, and sometimes knee and elbow pads for extra protection. You teach them about staying away from the street, looking both ways in traffic, using the cross-walk at intersections and keeping their ears and eyes open at all times. Springfree trampolines are for any parents who are overly concerned about their child's safety.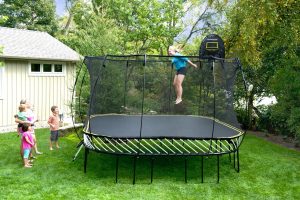 While they can be dangerous for children and adults, if you take precautions and enforce the rules that trampoline brands put in place, you lessen that risk. And when you do that, you find that trampolines can actually have more benefits than risk. Trampolines are great for exercise and getting your children outside and away from their video games. Additionally, they are great for the whole family and bonding time. The most important aspect to consider when looking for a trampoline to buy should be safety!
Best Trampoline Brand for Safety
It is agreed upon by most consumers, critics and experts that Springfree trampolines are the safest trampolines on the market today. Springfree designed a revolutionary model that does exactly what its name claims: it is completely, 100% spring-free. The springs of a traditional trampoline are the number one cause for trampoline-related injuries and Springfree's springless patented design eliminates this risk. For this reason alone, it is believed to be the safest trampoline.
These springless trampoline's frame is situated beneath the jumping surface, out of harm's way, and attached by flexible composite rods. With the rods and the frame beneath the surface, this eliminates the possibility of crashing onto the frame. This reduces the chances of broken bones, fractures, and head injuries. Trampolines with traditional springs are infamous for pinching and causing other related injuries upon impact from the jumper.
Springfree's SoftEdge mat is said to be 30 times more shock-absorbent than the cheap pads found on spring trampolines. Traditional pads on a spring-based trampolines sometimes are poor quality and have to be replaced often. They have the shortest lifespan of any component of the trampoline.
The FlexiNet enclosure is a significant improvement from the spring-based trampolines' enclosures. It uses flexible net rods that cushion the jumpers and prevent falls.
Springfree Trampolines Additional Considerations
Now before you run off to buy your Springfree trampoline and then have a heart attack when you see the price, I want to warn you that the Springfree is among the priciest of the trampoline brands in our trampoline reviews. This is one of those products that "you get what you pay for". There are many products out there when it is wise to go with a budget-friendly option. We do not recommend that approach when it comes to safety. Anything of quality is going to come with a bigger price tag. Also keep in mind that a quality trampoline is going to outlive many budget friendly trampolines. A trampoline is not something you want to skimp on. Splurge this time for your children's safety and your own.
Safest Trampoline Assembly
In addition to safety and price, assembly is another factor to consider. Most consumers have no problem setting up the trampoline with little help. However, few consumers have had some trouble and believe it is more complex than traditional trampolines. Assembly aside, it is probably not going to come apart very easily and that is a good thing. Once it is setup, it is likely not going anywhere and you can feel at ease knowing that your family is not at risk. Read More Owner Reviews⇒