Best Trampoline Basketball Hoop: Top Goals to Buy on the Market
Not everyone knows that there are accessories that you can add to your trampoline to make it more fun. Even fewer realize that you can add a trampoline basketball hoop to your trampoline and learn how to slam dunk like never before. It is a true treat for most teens and every kid, big and small, that may love this new spin on an old favorite game. Needless to say, this can lead to some pretty cool trampoline tricks. Below you will find the best trampoline basketball hoop available.
SkyWalker Jump N' Dunk Trampoline

JumpSport Elite Basketball Trampoline Package

Springfree Trampoline with Basketball Hoop

Shape: Round
- 108.3 x 180 x 180 inches
- Safe
- Basketball Hoop Included

Shape: Round
- Integrated safety cage
- 73 x 8 x 19 inches
- Basketball Set Included

Shape: Round
- Jumper weight 220 pounds
- Spring free
- Basketball hoop and ladder included

Click Here for Price

Click Here for Price

Click Here for Price
What is a Trampoline Basketball Hoop?
In years past, people would often put a standard basketball hoop with a pole next to their trampoline in order to play basketball. This was a very dangerous sport for kids to play. They may try to slam dunk and because it was near the edge of the trampoline, a lot of people fell off. There was also an increased risk of the standard basketball goal tipping over because it would not be secured to the trampoline.
Now, you do not have to do it this way. There are trampoline basketball goals that can attach to the poles at the top of your safety enclosure or between two poles the trampoline itself. This will eliminate the chances of your child, or you, slam dunking and end up on the ground in pain. It is a new play option to bring the thrill back to your trampoline and there are several trampoline brand name manufacturers who are getting on board with the trampoline basketball hoop attachment.
Options for a Trampoline with Basketball Goal
When it comes to adding a basketball goal for trampolines to your favorite jumping spot, you do have options. There are hoops in a variety of price ranges and different colors. The goal may be mesh-like the safety enclosure or it may look like the traditional basketball hoop net. One option that many people consider the best is the Tramcore Attachable Basketball Hoop.
Jump Slammer Trampoline Basketball Hoop
The Jump Slammer trampoline basketball hoop is a fairly new product from Trampoline Pro. The basketball goal fits on most trampoline poles which makes it a great add-on gift for kids who already own a trampoline. The offset bracket is a great addition to keep the goal vertical since some enclosure poles curve inward. The breakaway rim is a nice safety feature because we all know kids can be rough on things like this. Customers really like this trampoline basketball goal we highly recommend this item.
Read More Here⇒
Skywalker 15-Feet Jump N' Dunk Trampoline with Safety Enclosure and Basketball Hoop
Skywalker is a very popular trampoline brand and their Jump N' Dunk trampoline is one of their best sellers. Jumping is fun but by adding a basketball goal there's just more for the kids to do. The Skywalker Jump N' Dunk trampoline will keep your kids busy all summer. The basketball hoop and ball are made of soft materials for increased safety. The rim has a break away feature which also increases safety. Due to the soft materials this is less like a real basketball goal but is still a fun add on.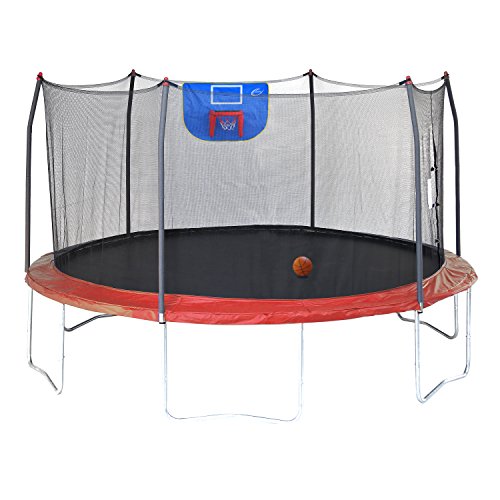 JumpSport Elite Basketball Trampoline Package, 14-Feet
If you do not already have a trampoline, you still have options. The JumpSport Elite Basketball Trampoline package deal is a trampoline that gives you everything you need to own before you can play basketball on your trampoline. It is available in three different sizes and once you assemble it, it will add hours of fun to your backyard.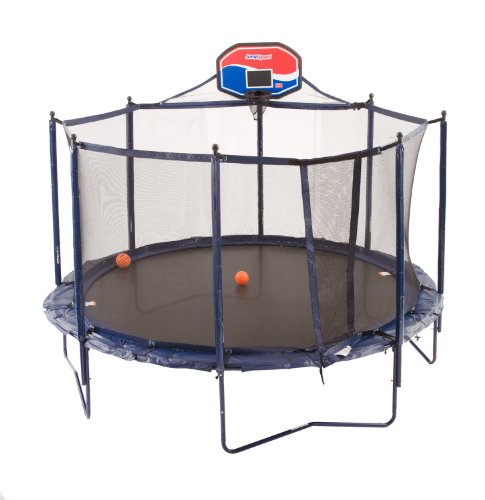 Springfree Trampoline Medium Round with Basketball Hoop
Another option is the SpringFree 10ft Trampoline which has a FlexrHoop and FlexrStep ladder included. It is 100% springless for extra safety and can hold up to 250 pounds of people playing basketball to their heart's content. Read More About the SpringFree Trampoline Here⇒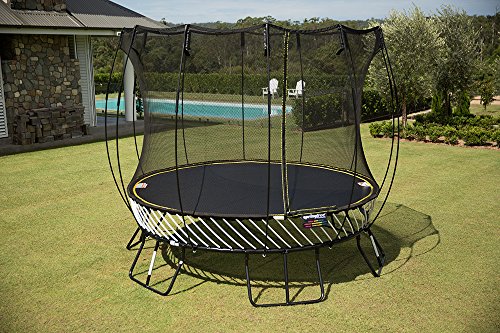 Tramcore Attachable Basketball Goal Review
This basketball goal is great for people who already have a trampoline set up with a safety enclosure. It will easily attach to most any enclosure pole that can hold it up. It is made of heavy-duty material that will not easily get damaged even during rough weather conditions. It also comes with an inflatable basketball and a pump to keep it aired up. This means you get everything you need to take your trampoline to the next level of fun and perhaps even add a little competitive action to your kid's life. Read More Here⇒
Trampoline Basketball Hoop: Conclusion
Either of these trampoline basketball hoop options will work great for anyone of any age who wants to get up off the couch and outside playing. Which will you choose? If not one of these options, keep in mind that there are a lot of other choices in trampoline accessories besides basketball goals for you to think about.