Top 5 Trampoline Chair Reviews and Ratings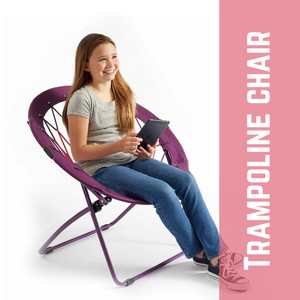 A trampoline chair, also known as a bungee chair or bunjo chair, is the perfect addition to any reader's corner. No home should be without one! Trampoline chairs bring comfort and lounging to an entirely different level.
Just because you're not trampolining, doesn't mean you can't enjoy the comfort of a chair that's closely related to trampolines. They're just more practical, stylish, and be indoors!
Top 5 Trampoline Chairs
Our top trampoline chairs amazon picks are outlined for you in perfect detail, so take the time to choose the best trampoline chair price for you!
Zenithen IC544S-TV04 Bunjo Bungee Chair – Best Trampoline Chair
The Bungo Bungee Dish Chair by Zenithen is currently priced around $53 for 1 chair, but you can also get 2 for $104. Each chair has a maximum weight capacity of up to 225 pounds, with a black 600D polyester rim and a teal netted interior made of bungee cords.
The steel frame is made for strength and durability, which folds up into a compact size that makes storing it a snap. It has the size dimensions of 25.98"x32.28"x32.68", with the whole chair weighing no more than 8.2 pounds.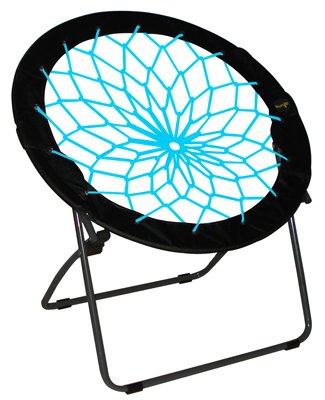 Click To See Best Price
Delta Children Star Wars Teen Bungee Chair – Best Kids Bungee Chair
Perfect for fans of The Force, the Star Wars Teen Bungee Chair by Delta Children is priced for only $53. This trampoline chair weight limit is for only 165 pounds, making it a great option for a kids bungee chair and, as the name advertises, teens, as well.
It features graphics of Darth Vader and the Imperial Crest from Star Wars, folds up for convenient travel, and has the size dimensions of 19.41"x28"x28".
The chair is made of metal, nylon, and durable fabric, with a total weight of only 5.5 pounds.
Click To See Best Price
The Bunjo 360 Degree Bungee Chair in Green and Gray by Bunjo 360is currently priced at a flat $44. It's foldable, has a durable steel frame, and the size dimensions of 32"x32"x25, with a maximum weight capacity of 225 pounds.
The bungee chair system is flexible and comfortable, Durable steel frame is rust-resistant.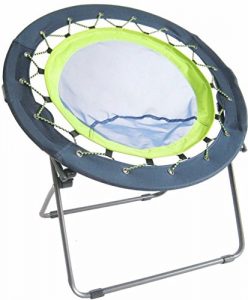 Click To See Best Price
REDCAMP Folding Bungee Chair
The Folding Bungee Web Chair by REDCAMP will cost you approximately $60. It comes in White & Turquoise as well as Pink & Black. It's a foldable trampoline chair for adults and kids that has a safety latch lock design when unfolded for stability purposes.
It's able to support up to 250 pounds of weight, persons no more than 6.2 feet in height, and has the size dimensions of 31"x31.5"x31.5". It's made out of 600D polyester with a stretch band for strength, durability, and comfort. The entire chair weighs 13 pounds altogether.
It uses 16/19mm steel tube brackets for a structural design with powder-coated legs. It's also backed by a 365-day warranty by the manufacturer, and you can also opt for a 3-Year Accident Protection Plan for $10.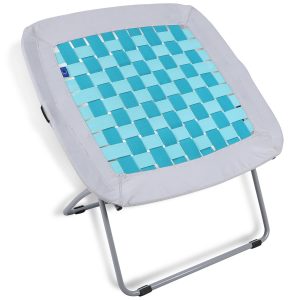 Click To See Best Price
Impact Canopies BlueRound Trampoline Chair
The BlueRound Chair by Impact Canopies has a trampoline chair price of $56. You can pick from 6 different colors based on the model, but each color bunjo chairs, for some reason, costs a different amount, so keep a note of that if you'd prefer a different color.
It's made of 600D fabric with suitable bungee cords, can hold a maximum weight of 225 pounds, and has the size dimensions of 31.5"x32"x27", with the whole chair weighing only 8 pounds.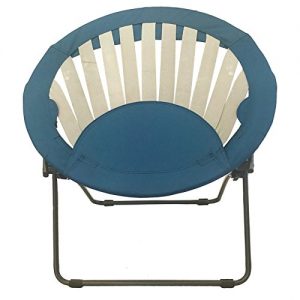 Click To See Best Price
Trampoline Chairs – Not Just for Kids!
A good trampoline chair is just as comfortable as any lounger. They're stylish, practical, easy to transport, and offer a lot of comfort!
Trampoline Chair FAQ
If you don't see your question listed below in the FAQ section, let us know!
What is a trampoline chair made of?
A trampoline chair, or bungee chair, is typically made of bungee cords and either steel, metal, or plastic for the frame and the legs.
Are trampoline chairs safe?
Yes, they're very safe. As long as you don't horse around too much on them and actually use them as a chair, as they're intended to be used, you should be fine.
What is the usual trampoline chair weight limit?
Based on our research, the typical trampoline chair weight limit is generally around 225 to 250 pounds per single chair. You can read about trampoline weight limits in our article here.
If you like bungee trampoline chairs, be sure to check out our ultimate guide to bungee trampolines!