Best Jump Boots and Jump Shoes Review
Before Neil Armstrong took his first bouncy steps on the moon, people were fascinated by the possibility of walking with a bouncy step. In 1936, two men George Nissen and Larry Griswold, invented the first modern trampoline. This led to Nickelodeon introducing the world to Moon Bounce Shoes during the 1950s. They were promoted as "mini trampolines for your feet" and marketed to kids. These jump shoes consisted of a metal frame that fit over regular shoes. The bottom had springs. Now, though, there are better options for people who want to put a bounce in their step, and even adults can get in on the fun.
What are Jump Boots and Jump Shoes?
Even though moon bounce boots were first invented to be a way for kids to jump and have fun, they have come a long way. Their design is a little easier to handle for most. They are fun for both adults and children. However, this is not the only reason people are enjoying them. The new purpose came about when Joe Ruhl, the president and co-owner of Excel Physical Therapy and Fitness in England gave them a try. He wanted to provide a recreation device for athletes who were recovering from certain leg injuries. He determined that they were easy on joints and that by using them a person could get toned muscles and burn more calories.
It worked and in the 1990s, jump boots were redesigned by a Swiss entrepreneur named Denis Naville. He wanted to improve their comfort, performance, and design. The jump boots you find today are a result of these improvements. They are more comfortable and easier to wear than ever before.
Is It Truly a Trampoline Jumping Experience?
The reason people should buy moon shoes is because they can help anyone who have leg and back issues. They work by relieving pressure on joints so you feel less pain. They provide a natural rebound effect that makes exercising more comfortable and you will see results faster than normal running or walking.
The hard part is getting used to them. On the Kangoo jump boots you will see a single spring on the bottom. This is what will collapse and expand to give you a bounce. Kids and adults can bounce along while wearing them and most do say that it is a lot like running on a trampoline, with no impact at all.
Many people do agree that when you first use moon shoes, you should cautiously move around a little to figure out how they will feel. After bouncing, try walking and you will notice that there is no shock to your feet, legs, and joints. From there, jogging on concrete or asphalt will also be easier on you.
A concern that most people have at first is whether they are safe or not. The bounce that moon shoes provide is safe for most, regardless of age, but it is recommended that if you have balance issues, serious medical conditions, or if you are pregnant, you may want to avoid wearing them or ask your doctor if it may be a safe option for you.
To help you decide whether these shoes may be good for you, here are a few reviews for you to consider. This will allow you to weigh the benefits and see what is available.
Kangoo Jumps XR3
These Kangoo Jumps are available for both men and women. They promise to reduce back and joint pain, no matter how long you are exercising while giving you a better workout. These boots are designed for people who weigh less than 200 pounds, but according to some users they first started wearing them when over the maximum weight rating. Some people do have issues with the clamps breaking, but if you do have an issue with them, replacement parts are available and affordable. Read More⇒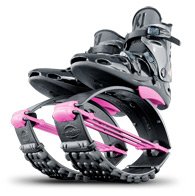 Air Kicks Anti-Gravity Running Boot
These boots are designed for people between 99 and 176 pounds. This means they are acceptable for all age groups from approximately 8 years old. There are a variety of women's and men's sizes available. They fit over your regular athletic shoes and use the patented JUMPING JAX T-spring technology for their base. If ever you need a new T-spring because you lose weight, they are sold separately, which means you will not have to buy new bouncy shoes. Sizing Options⇒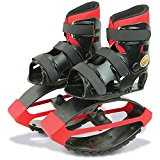 Poweriser Jumping Stilt Advanced
These moon boots are made for people between 158-198 pounds. They are heavy duty shoes that are made with a thick aluminum frame. They also have a long lasting fiberglass leaf spring. They do come with a 12 month general warranty with six months on the spring and rod-D parts. Powerrisers are made to allow wearers to jump up to 7 feet high and run as fast as 20 mph. It is recommended that you wear full safety gear when using. Read More⇒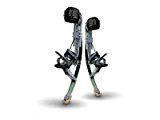 Kangoo Jumps KJ XR3 SE Women & Men's Jump Boots
With Kangoo jump boots, you can expect to burn 2x the calories in half the time. They reduce joint impact by up to 80% and provide a total body workout. You can wear them while dancing, running, jumping, or simply walking. They are good for men. They are great for women because of their kegal effects which can also strengthen lower abs. Check Sizing Options⇒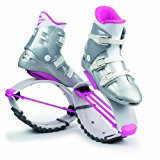 Kangoo Jumps Power Shoe for Kids
Your child will love running and playing while using moon bounce shoes and they will not even realize that they are burning calories and working out while doing it. These shoes can increase their endurance and give them a full cardio workout as well. It provides everything that a stationary trampoline provides, but it is more fun because they can do it anywhere.