Bounce House for Sale : Read Our Reviews on the Best Ones to Buy
Remember going to a fall carnival or small town fair when you were younger and seeing the large, air-filled castles and bounce houses? They were everywhere and at each of those areas, kids would be swarming in and around it, either waiting for their turn or inside of it, laughing and doing tricks. Those were great times that most of us remember fondly. As times changed, those large jump houses faded away, replaced by other thrills.
However, nothing compared to them, so bounce house rentals became popular for special occasions. Parents, who wanted to have something unique at their child's birthday party, would rent a jump house for the day. Now, there is an even better way to show your kids what fun is all about. Read below for info on the best bounce house for sale.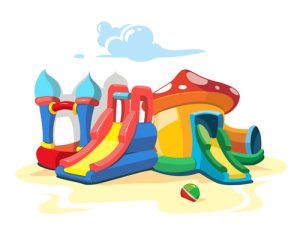 Read reviews of our favorite Outdoor Jumbo Games here!
Why Choose a Bounce House Over a Trampoline?
Adults and kids both enjoy jumping and feeling the freedom of flight for that second that it takes for them to go up and back down. Kids will jump on anything. It really does not matter to them whether it is a bed, a sofa, a floor, a trampoline, or a bounce house. It saves your furniture and your sanity if you can provide them a place that is designed for jumping.
Before it was possible to find a bouncy house for sale, parents relied on trampolines. Trampolines gave kids an outlet for their energy and allowed them to soar. However, the thrill sometimes faded because there was nothing much to do, but bounce. With that in mind, people accessorized their trampolines with basketball hoops and other add-on items. It may have been fun for a while, but kids push the limits and then do trick jumps or decide they can have more fun playing video games. A downfall for trampolines is that most are designed for older children and not the smaller kids who want to jump more often.
A bounce house, though can encourage fun. Some of them have slides, ball pits, or even use water to keep kids of all ages, especially younger ones, more entertained. They come in all sizes, they may have themes, or they may simply provide more than what you may have seen in a jump house when you were growing up.
How Much Will A Bounce House Cost?
If you are interested in finding moonwalks for sale, you will be happy to know that they are much cheaper to purchase than a full sized trampoline. As with all things, the price will vary based on what features you want for your new bounce house. There are some that can be purchased for less than $50 USD. They are very basic, designed for pure bouncing fun. Others may cost you over $100 USD and they have a few more fun activities added to them (slide, ball pit, etc). They may also be bigger bounce houses. If you want to go with a top of the line, loads of fun bounce house trampoline for sale, then it may cost you a couple hundred dollars, but this is still less than most entry-level trampolines.
Is a Jump House Safer Than A Trampoline? 
Safety is a concern for all parents when it comes to trampolines or jump houses. When it comes to a jump house safety, as long as parents create rules for safe playtime and stick to them, kids should be safe. For instance, when setting up the trampoline, parents should use metal stakes to anchor the bounce house, but if it is a very windy day outside, you may still want to keep it deflated.
Beyond that, parents need to supervise the jump house the same as they would a trampoline. This means ensuring that there are not too many kids on it at one time and that all the kids who are on it are comparable in age, size, and jump style. Bouncing flips and roughhousing is not something you should allow, especially if there are multiple kids inside.
These same rules must also apply to a trampoline. Therefore, the biggest thing that keeps kids safer in a jump house is the simple fact that it is not set up off the ground like a trampoline. The possibility of a child falling through the netting of a trampoline or the walls of a bounce house is slim, but if they do, the house is a lot closer to the ground.
To see more about your buying options and how safe these bouncy houses can be, perhaps you should have a look at some of the bestselling bounce houses available.
Little Tikes Jump-n-Slide Dry Bouncer
This Little Tikes bounce house has a weight limit of 250 pounds, which basically means it is strong enough to be a jump house for adults. It has a large 7ft play arena and a slide for your kids to enjoy. It is made of a material that resists punctures and it comes with everything you need to ensure a safe setup. There is a heavy duty blower that will provide continuous airflow and heavy duty stakes to keep it properly tied down. Read More Here⇒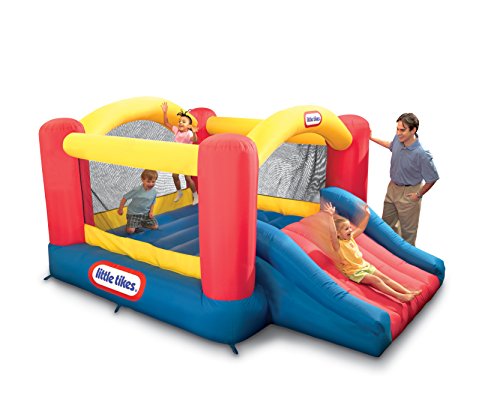 My Bouncer Little Castle Bounce
This jump house doubles as a ball pit popper. It is made with Phthalate free materials and meets CMS safety regulations. It is able to resist punctures. It has a built-in ball hoop and an inflated landing step to make it easy for kids to get on and off. It comes with a low noise continue-flow blower to keep it inflated. No more than 150 pounds should be on it at one time. Read More Here⇒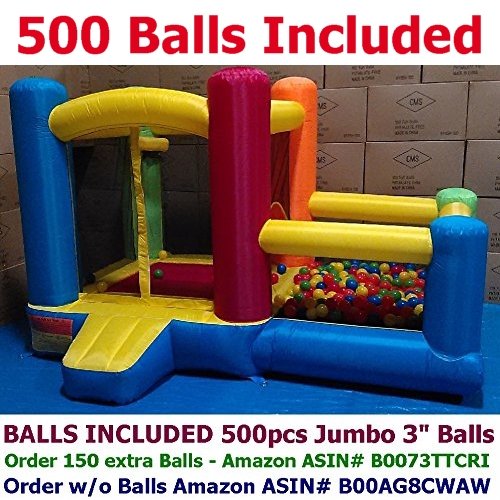 Little Tikes Super Spiral Bouncer
This Little Tikes bounce house with slide is larger than most houses. This also means that it adds more fun for little kids. It has a hoop and balls, a rock climbing wall, a large padded jump area, and a cool spiral slide. What more could your kids ask for? When you open the box, you will find everything you need including, stakes, a ball, the heavy-duty blower, a repair kit, and even a storage bag. It is safe to play on for all kids aged 36 months through 8 years old. Read More On This Awesome Bounce House Here⇒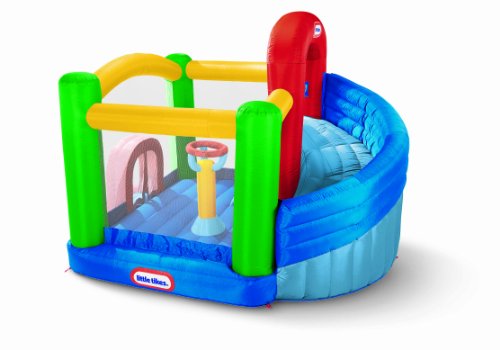 Ultimate Combo Bounce House
Your kids will love this bounce house. It is designed for kids who are ages 3-10 and can hold up to 400 pounds at one time. This means that you can have as many as 4 average sized 10-year-olds on it at one time and they will all be able to enjoy bouncing, sliding, or playing in the ball pit. It comes with its own blower to keep the heavy duty puncture proof material inflated. All you have to do is add the kids and the balls.From there, the fun will take over. Read More Here⇒
Bounceland Castle Inflatable Bounce House
You can encourage your kids to play in this very large castle bounce house. It has a built-in ball pit and an inflatable basketball hoop inside of the castle. To come out, your kids can slide down the inflated slide. There is a Velcro opening for kids to get inside of safely and while they are playing, you will not have to worry about them slipping out. It comes with a blower and it is designed for children over 3 years old. The maximum weight limit that it can hold at one time is 250 pounds. Read More Here⇒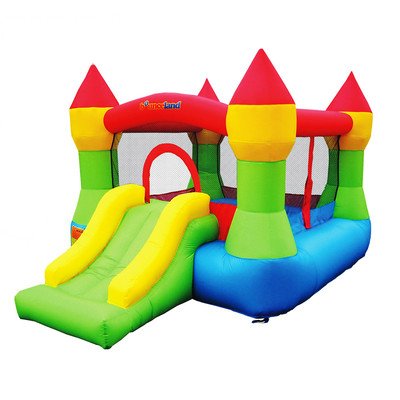 Bounceland Royal Palace Bounce House and Slide
If your child enjoys bounce houses, why not give them a bounce house that offers more? The Royal Palace has a very large bounce house surface area for jumping around and it has a large slide that is accessible from the inside. There is a Velcro enclosure to keep bouncing kids safe and the entire bouncy slide has a guard to keep kids from falling off.  This bounce house is large enough to handle 4-5 kids at a time or up to 500 pounds. It comes with everything you need, including the house, a carry bag, blower and more. Read More Here⇒

Little Tikes Double Fun Slide 'N Bounce
This jump house was designed to be enjoyable for two kids ages 3-8 years old. However, it can be used by several children at one time. It is double everything. There are two entrances and two slides for them to enjoy. From the outside, kids can climb up to the high slide and slide down. Once inside the bounce house, they can burn their extra energy and then slide out on a smaller slide. It is safe fun for kids and small enough to fit inside of a playroom on rainy or cold days. All you need is an empty corner and everyone can play. Read More Here⇒
Blast Zone Play Palace Inflatable Bounce House
This jump house has a recommended occupancy of 4 bouncers at one time. It can hold up to 400 pounds and it is fully enclosed by netting. It is quick to set up and any time that your kids want to jump, you can make their wish come true within only a couple minutes of your time. When the day is done and you are ready to put it away, it rolls up like a sleeping bag and you store it in a dry area. The blower is included and it will run continuously while your child plays. Read More Here⇒