Whether you are an adult or a child, trampolines can be a very exciting way to play. All kids seem to enjoy bouncing high up into the air where it feels like perhaps they are flying. They also enjoy the feel of free falling when gravity takes over and brings them back to the jumping mat. However, because children are children, they will also come up with other ways to make it even more fun. Parents can encourage other activities on a trampoline and take part in these fun trampoline games. It is a great way to encourage kids to exercise longer and stay more active as a family.
The Trampoline Games that Children Play
Kids have wonderful imaginations when it comes to games, both on and off the trampoline. With encouragement from you, it can lead to some of the most creative games. One game that a lot of children play is to have a person sit in the middle of the trampoline while holding their knees against their chest. All of the other players can jump around.
The goal of the game is to try and make the person in the middle have to change position to stay stable. For example, they must unwrap their arms or fall to one side. The winner is the one that makes them topple. For a fun variation of this game, choose a well stuffed pillow that the person in the middle can sit on, kind of like a bull rider, and have others bounce around to make the "rider" fall off of his "bull".
Crossfire is a game similar to dodge ball except you have two or three kids on the trampoline and everyone else on the ground. The people on the ground have a softball and they try to tag someone who is on the trampoline. When someone is tagged they get down and the one who threw the ball climbs up. In this trampoline game, points are made by seeing who can reach the most tags first.
Other popular choices include games such as Marco Polo and Simon Says. These games are played the same way as when the person is on the ground or in the pool, but on a trampoline mat instead.
Basketball Hoops and Toys Add More Fun
All over the internet, you can find accessories for a trampoline. There are trampoline tents you can buy, trampoline basketball hoops, and a variety of other fun things to give new life to a trampoline. These accessories are designed to make creative imaginations dream up new ways to play.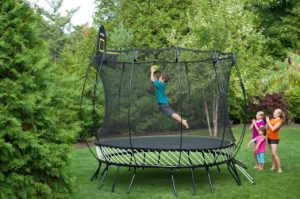 Some of the most popular trampoline toys available include trampoline hoppy balls, soft bouncy balls, cords which can run across the mat, sidewalk chalk, and ball toss nets. There are several different styles of toss nets which can be played with small, soft balls or bean bags.
For parents who need to consider their finances, most are easily affordable options. However, if you want a few DIY ideas for games to play on a trampoline, you have options there as well.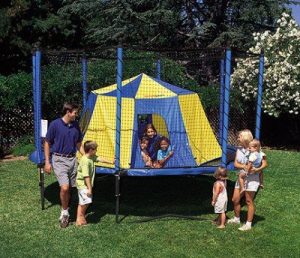 If your trampoline has a safety net, you can put a sprinkler under it to cool off the heated mat as well as delight the kids and show them a new way to cool off. You can go camping on the trampoline using a trampoline net or just a few sleeping bags depending on how bad bugs are in your area. You can use virtually any soft bouncy ball for ball games. All that matters is getting your kids up and outdoors where they can spend time laughing and playing.
Is It Safe to Play Trampoline Games?
With so many games to play on the trampoline, you will not ever find a better way to encourage kids to get back to playing. The one thing that concerns most parts is whether these games are going to be safe or not. The key here is to consider trampoline safety. Keep in mind that trampolines can be dangerous if children are not given limits.
When playing with the sprinkler or having kids aim water guns at their target, trampolines get slick when wet. Therefore, these games should only be played if you have a safety net enclosure and padding where the springs are.
If you want to play a trampoline game that includes having a group of kids doing something, Simon Says, Monkey in the Middle, or others, make sure that your trampoline is rated to hold the kids that are on it. You should also not allow too many kids on it at one time or have really small children on it with kids who are rough housing and a lot bigger.
When it comes to safety, you are the best judge around. If you worry that something will cause a child to get hurt, you may want to stand watch to ensure that things do not get out of hand. With thought and proper considerations, you can prevent injuries while allowing all the kids you know to have a fantastic time.