SkyBound Stratos Trampoline w/ Full Enclosure Net
The trampolines you purchase from SkyBound USA are designed to provide extra safety and extreme bounce. One of the most talked about is the SkyBound Stratos trampoline with full enclosure net. It is popular for anyone who wants a durable, solid, and stable. They are easy to assemble and offer several other desirable features. Are you ready to discover all of the other features?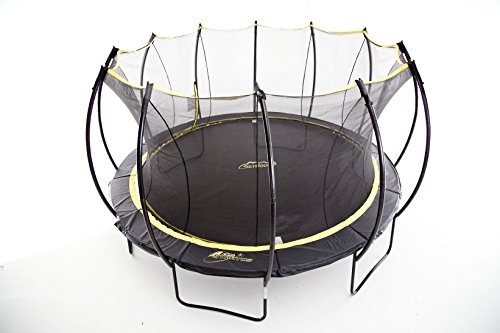 SkyBound Stratos Trampoline Features
Safe trampoline that uses more enclosure poles
Rust resistant steel and UV-resistant concave safety net
Easy set up with Velcro, push-pin bolts, and machine welded joints
Gold zinc springs give added bounce
Excellent warranty coverage
330-pound weight limit
Available in different sizes
Shipping Dimensions
Weight 253 pounds up to 276 pounds
Free shipping
Ships in Three Boxes
 
SkyBound Stratos Pros
The SkyBound Stratos features one of the most impressive warranties at 10 years for the frame, 2 years on the mat, 1-year for the net and springs. It meets or exceeds the ASTM U.S. Trampoline Safety requirements. This means that it is definitely built to last. The setup is easy. You do not need screws, nuts, bolts, and other stuff. You simply have to push it together so that it will lock securely. This is much nicer than the traditional style trampolines that are available that may take hours to assemble.
SkyBound Stratos Cons
For all of the warranty features, the Stratos does not have much warranty on the spring pad. The warranty only covers 6 months. This does not mean that your pad will not last longer than 6 months. It is still put together well, it just means that you may have to replace it at some point. One person says that the paint job on the trampoline is not done very well. Other people do not see this is an issue for it and in fact, never mention the paint having issues. Overall this trampoline reviews favorable reviews, which proves most people  love this trampoline.

SkyBound Stratos Reviews
The people who have given the SkyBound Stratos trampoline a review on Amazon all seem to love it. They say it is an idiot proof assembly process and that it is very solid built. They like the style, They do recommend that when you are jumping on it, you keep the zipper closed to eliminate a stress point that may tear up the safety net. Overall, they suggest that you give this trampoline consideration if you like the idea of an affordable way to get your kids outdoors. You can read more owner reviews here.