Trampoline Nets, Pads & Enclosures
Most kids love to jump. Young children will often jump on beds and floors, couches, chairs and more, if they are not given other options. This leaves parents in a constant state of worry about whether their child's bed will break, will they fall off, and will they ever stop? It is often what leads parents to first consider buying a trampoline, but even this is considered to be "unsafe" by most parents. Now, there is a way to let your kids bounce their way to exercise and happiness while allowing parents everywhere to feel good about it. A trampoline net and pad will lessen safety concerns. the entire family to get up, get out, and bounce.
How Trampoline Nets Increase Safety
The two biggest concerns that a parent may have regarding a trampoline include the worry that their child will fall off the trampoline or that they will fall between the metal bar and mat to get pinched by the springs. Without proper protection, these two things are possible. That is why there are trampoline safety nets and padding for those two areas of concern.
The pads cover the springs to make it less likely that a child or anyone else who gets onto the trampoline will come into contact with the trampoline's springs. It is a padded covering that completely wraps around the exterior of the trampoline. It is wide enough to slightly overlap the trampoline mat while staying secured to the outer steel bar of the trampoline, regardless of what size and shape you have.
A safety net is also something that will attach to the outer steel bars surrounding your trampoline's jump surface. It enables you to be confident that you nor your child will risk injury from falling off. Many of the nets have a secure entry area to further ensure that you will not fall off, regardless of where you are on the trampoline.
Not All Trampolines Come with Enclosures
Even though nets and pads are a desirable feature of trampolines, not all trampolines will come with them. Most will have a pad, but no safety net, from the factory as a brand new trampoline. If you purchase a used trampoline, you will also most likely end up without either of these safety features.
Pads and nets are designed to last for many years. They are made of material that resists weather damage. However, all things can become worn over time. A used trampoline may need a trampoline replacement mat to keep your family safe.
You Can Install Nets and Pads Easily
To assemble and install a safety net is easy once you figure out what size trampoline you have. You simply have to assemble the bars which will hold the net up securely and then place them on the trampoline using a nut and bolt on your trampoline's base. Then you lay out the netting and figure out where it should attach to the pole tops, tie it all into place, and then make sure it is all secure.
The padding is also easily installed. Most pads will slip over the steel bar that surrounds the trampoline and then it ties into place. You cannot get much easier than that, but your trampoline will immediately be a safer place to play.
Net & Enclosure Availability
To help you see the options you have available to increase the safety of your trampoline, why not take a look at the trampoline enclosure net reviews below. They are designed to work on both old and new trampolines that do not always come with safety nets and padding.
Upper Bounce Trampoline Enclosure Safety Net
This net is best used if your trampoline already has the poles available for a safety net. It is purely a trampoline net replacement that will not limit visibility, but still provides maximum safety. It is extremely durable, easy to install, and has a dual closure at an entry point that is secured with a zipper and buckles. Read More Here⇒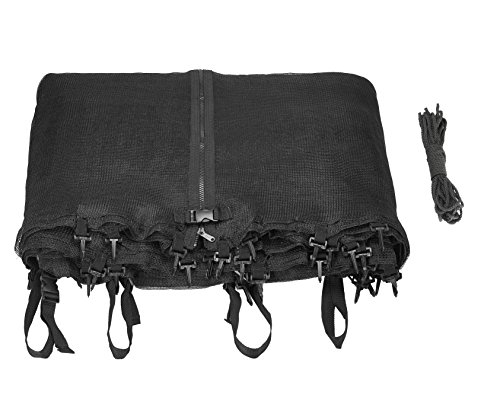 SkyBound Trampoline Nets
This net is designed for SkyBound brand trampolines, but works for most other trampolines of similar sizes and designs. These trampoline nets are available in a variety of styles for use with arched poles, straight-curved poles, and top-ring enclosures. They also can be attached with sleeves, straps, or caps. Plus, they're durable and backed by a great warranty! Read More Here⇒
Upper Bounce Super Round Trampoline Safety Pad
This replacement pad is made of 100% PVC. It is shock absorbent, high density and uses closed cell foam so you will not have to worry about mold or mildew forming inside of it. It has rubber ties to keep it securely attached to the frame. Pad Sizes Available Here⇒
15Ft Round Trampoline Net for 4 Arch Enclosure
This style of trampoline replacement nets uses straps and ropes to keep it in place, along with arched bars for support. It has a zippered entrance area and is made with a heavy duty mesh netting. It is designed to fit only 15' trampolines that have a 4 arch enclosure. Read More Here⇒