Welcome to the Trampoline Review Guide. Our site provides comprehensive trampoline reviews to help you make the correct choice of trampoline and/or trampoline accessories and supplies. A trampoline can be a big family purchase, so choosing the best trampoline for you and your family is of utmost importance. There are many factors to consider when purchasing a trampoline from safety to price. Here at the Trampoline Review Guide, we have compiled all of the data for you in one easy to access website. The brands we have reviewed are Springfree, PureFun, Skywalker, and many others. We've narrowed down the options to save people like you time. We take pride in giving you our honest review; if a trampoline is not worthy, you will know it. Take a look below at the review comparison chart, as well as each in depth trampoline review to help you choose the right trampoline for your family. Full trampoline reviews can be viewed on their individual "Review" page, as well as our Best Trampolines for 2016.
Best Trampoline Reviews Comparison Chart
Trampoline Purchasing Considerations
This is every parents top concern when purchasing a trampoline. Although, most of those purchasing the trampoline grew up in an era of standard spring trampolines, six people jumping at once, and surely no enclosure, trampoline safety has come a long way. Now available are springless or springfree trampolines, net enclosures and a variety of pads to protect those trampolines that do contain springs. The safest trampoline will definitely be one which includes an enclosure to prevent children from accidentally falling off. Read our report on the safest trampoline before making your purchasing decision.
A relatively new concept in the world of trampolines, a springfree trampoline is something everyone of those that has slipped through the springs should consider. I know as a child (and maybe guilty as an adult as well), I have gone up for a jump and came back plunging through the springs. Not so comfortable, especially for the men and boys. Now available are springfree trampolines which is a radical new invention to the trampoline world. Although a springfree trampoline is in no way a complete solution to trampoline safety, it sure does eliminate one dangerous aspect of falling through the springs. Springfree trampolines are of course more expensive, but then again the springs and mats do not need to be replaced as on a conventional trampoline, so this is a consideration to keep in mind.
Trampoline Size:
Is bigger always better? Not necessarily. A smaller trampoline, excluding kids trampolines and exercise trampolines, provides more of a bounce. On the other hand, a larger trampoline provides significantly more surface area for jumping. This is critical if you're like us, and can't keep the adults off the trampoline…. in which case you should consider an adult trampoline. Although not advised by us, nor the manufacturers, those that do decide to jump with multiple participants at once or partake in cool trampoline tricks, this is indeed a consideration. Of course, you will also need to consider where you will place your trampoline. Make sure you have more than enough room in your backyard, if that is where it may be located to accommodate your new trampoline. Or if you are interested in a water trampoline, you will want to consider how many jumpers/loungers you'd like to accommodate. In which case, you should also understand the weight limits of a trampoline. One last consideration is to make sure the trampoline will be free from overhead hazards. All too often, trampolines are placed underneath trees/branches which can pose a safety issue in addition to a leaf collection area in the fall.
Trampoline Shape:
Although trampoline shape is more of a personal preference, this is another consideration to take into account. Available shapes range from round, oval, octagonal, rectangular, to square.
A round trampoline is normally for home use and is the most common.  These trampolines are bouncy near their center and normally steer jumpers to remain near the center when jumping. Round trampolines tend to be cheaper and lighter than other shapes.
Oval and octagonal trampolines are basically hybrids. They are bigger and offer more jumping area compared to round trampolines. They also tend to be more expensive than round trampolines. You will not find many options for these particular shapes but there are a few.
Historically, rectangular trampolines have been used for gymnastics/competition because they offer the most even bounce over their entire surface. They tend to provide the best bounce heights and a large jumping area. Due to their size they tend to be heavier and more expensive.
 Square trampolines are basically smaller versions for the rectangular trampolines. They tend to provide a firmer bounce which means less overall jumping height.will provide more lift and a firmer bounce. You'll find that many kids trampolines are square, as are many adult exercise trampolines. Springfree has even recently put out an 11′ & 13′ square model.
Some of Our Top Rated Trampoline Reviews 
Skywalker 15′ Enclosure with Pad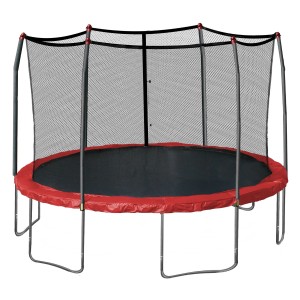 If this trampoline looks more like the conventional trampoline you are used to, then you're right. This is the traditional style round trampoline, but yet 15′ in diameter. This is an excellent choice for family fun as the round construction will offer a softer bounce compared to that of the rectangular Skywalker trampoline.
Constructed out of heavy duty galvanized steel ensures this frame is rust resistant and will last through harsh environments. Although the trampoline cannot be viewed as safe as a springfree trampoline, the Skywalker 15′ does come in a much lower price point, making it an ideal consideration for those looking for the best trampoline on a budget. →Full Review
Check Out The Current Skywalker 15′ Discount & Reviews⇒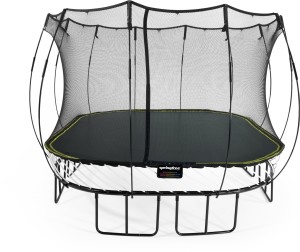 The S113 Springfree trampoline is our top rated pick for safety. Aside from already setting itself apart from the trampoline competition by being spring free, the additional safety features offered are next to none.
The square design offers a nice compromise between bounciness and softness. As outlined above, rectangular trampolines offer more of a spring, and round trampolines offer more of a softer bounce. The square shape offered by the S113 Springfree is offering up the best of both worlds. For the parents out there, this is by far the safest trampoline on the market. Boasting no springs, flexible response enclosure and a durable base construction makes this a no brainer for those who like the best of the best. However, the best of the best does not come without a price tag. This trampoline happens to be one of our top picks, but it also happens to be one of the more expensive trampolines. →Full Review 
 Check out the Current Springfree S113 Discount⇒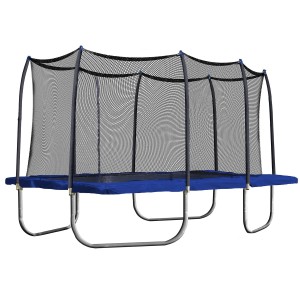 The Skywalker 15′ is for the most serious of jumpers or to be used as an adult trampoline. The rectangular shape naturally gives the most lift for jumpers, as opposed to round trampoline with a softer bounce. However, the rectangular trampoline makes a serious effort towards safety with its included safety enclosure.
A galvanized steel frame ensures durability through all weather conditions. The enclosure offers t-socket locking frame construction adding to the durability and stability. Being a traditional spring trampoline, safety is always a concern; 1″ thick foam padding is offered as a cover for the otherwise exposed springs.This is one of the best trampolines for the competitive jumpers such as those involved in gymnastics or competitive jumping. →Full Review
Springfree Medium Oval 8 X 11′ With Enclosure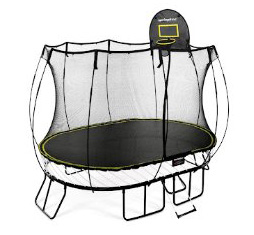 A smaller cousin to the Springfree S113, the Medium Oval offers the same great safety features of a springfree trampoline. Springfree patented technology trampolines are said to reduce product related injuries up to 90%.  With the solid frame located below the enclosed bouncing area it is easy to see how a majority of trampoline frame injuries are negated. Coupled with the flexible rebound enclosure, it is one step ahead of standard trampolines even with an enclosure.
Again, being a springfree trampoline means that these will come at a cost. This is not to be surprising. The construction is more durable than that of a conventional spring trampoline. This being the smaller cousin to the S113, it will take up a smaller footprint in any backyard. →Full Review 
 Springfree 10′ Round with Enclosure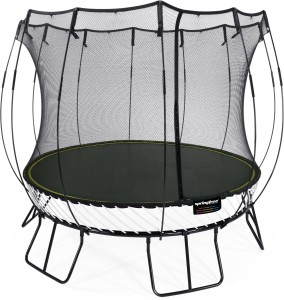 The smallest of the Springfree trampolines that we've reviewed, this trampoline has a lot to offer. The round construction is going to make for a softer bounce. The lack of the springs and an exposed frame make this trampoline the best option for families with the top concern for safety. The FlexiNet contains flexible rods that respond and cushion jumpers that helps to prevent falls off the trampoline.
As mentioned with the smaller 8 X 11 Oval, this trampoline will take up less real estate making it ideal for those that have a limited amount of room to accommodate a trampoline. The only reason this trampoline is not one of the top three is there have been a few complaints as to the trampoline assembly process. Buyers should be aware of the potential issues that come with self-assembly. →Full Review